There is a roof on the chicken coop! YES!!! My evil stares and constant nagging has produced a roof for my sweet ladies. I put in a lot of hours and hard work nagging hubby and it's days like this that make it all worth it for me. And since today is our eleventh year anniversary I am hoping he will put a few walls up for me as an added bonus. Maybe I should put in a few more stares.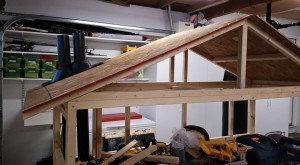 Fear & Sunshine: Prelude
Donovan Scherer


(11 Reviews)
Genre: Children's eBooks
FREE for a limited time
Monsters, Mad Science, and the End of a Dynasty For the true tale of terror and tie-dye to begin, the house of monsters must fall! For generations, the Darksmith family has constructed, concocted, or otherwise created the minions of the world's most wicked foes. Be they armies of undead warriors or hordes of the most vicious beasts, they all know Darksmith Manor as their birthplace. But one creature, born by the sum of all fears, wanted more than to serve any master. After declaring himself as the rightful heir as the maker of monsters, the creature known as Fear soon found that the Duke & Duchess of Darksmith Manor were about to have their first child.
Illustrated by the Author Fear & Sunshine: Prelude introduces the world of the epic series of monsters, mad science, and a little hippie girl. If you're ready for a fun-filled adventure into madness, start reading Fear & Sunshine today!
Click here to get this book for FREE
° ° ° ° ° ° ° ° ° ° ° ° ° °
Carnies and Wildcats: Ulciscor
Robert Spearman


(31 Reviews)
Genre: Mystery, Thriller & Suspense
FREE for a limited time
How far will a father go to avenge his daughter's death? Revenge is a dish best served cold, and sweeter when served in the South. In November 1980, one week after the Wildcats and Vikings squared off for their last football game of the season, someone raised the stakes beyond the realm of practical jokes, petty vandalism and theft. Someone in town committed a cruel, monstrous act. The carnival was in town with its rides, games, and sideshows and was finishing its last night in Valdosta before returning to Florida for the winter. After the carnival closed for the night, people leaving the back gate discovered a twelve-year-old carny girl's lifeless body in front of the back gate's ticket booth. Hanging around her neck was a sign: "We Hate Carnies and Wildcats" The killer was never found and her father swore one day to return for justice. Thirty-five years later Dr. J. L. Seiffert, hypnotherapist, moves to town and buys the old Daniel Ashley Hotel–for some folks in Valdosta, a city called "Winnersville", things will never be the same.
Click here to get this book for FREE
° ° ° ° ° ° ° ° ° ° ° ° ° °
Island Refuge (Wildflower B&B Romance Book 1)
Kimberly Rose Johnson


(26 Reviews)
Genre: Contemporary Fiction | Religious & Inspirational Fiction | Women's Fiction | Religion & Spirituality
FREE for a limited time
Five-Star-Chef Zoe Griffin walked away from her dream job. Did she make a mistake? Her engagement off, Zoe Griffin retreats to tiny Wildflower Island in the Puget Sound. Hiding out as a cook and maid at a shabby bed-and-breakfast seems crazy for a chef who's used to running her own five-star kitchen. And just as she starts to feel at home, her klutzy mishaps make Zoe fear her handsome new boss will fire her. Dr. Nick Jackson is done with medicine, and owning a B&B is as far from doctoring as he can get. He needs help, but his only employee's mistakes give him doubts. As Zoe lets her defenses down, Nick begins to see a competent and caring woman. One whose wounds are as deep as his own. But as they fall for each other, Nick and Zoe must learn the hardest lesson of all — to forgive. Only then can they heal the past and embrace the future… together. Author Bio Kimberly Rose Johnson, soon to be empty-nester, lives in the Pacific Northwest with her husband and their yellow lab. Island Refuge is her sixth published book and the first in a series of three. Kimberly enjoys long walks, chocolate, and mochas, not necessarily in that order.
Click here to get this book for FREE
° ° ° ° ° ° ° ° ° ° ° ° ° °
Off The Reservation: Stories I Almost Took to the Grave and Probably Should Have
Michael Rossi


(24 Reviews)
Genre: Biographies & Memoirs
FREE for a limited time
Equal parts shocking and moving, Off the Reservation: Stories I Almost Took to the Grave and Probably Should Have is an absurdist confessional memoir, accurately detailing the reckless hijinks of a bipolar alcoholic with borderline personality disorder. This stranger-than-fiction true story spans over three decades, as Michael recounts his tales with wincing honesty. Eventually, the maniacal nights of booze, drugs, and sex give way to rude awakenings in empty rooms, jail cells, and beds of snow from a failed suicide by Mother Nature. Rossi learns most of his lessons — gradually, reluctantly, painstakingly — without imposing them on anyone. Thankfully for us, these unapologetic, darkly comic tales haven't been taken to the grave just yet.
Click here to get this book for FREE
° ° ° ° ° ° ° ° ° ° ° ° ° °
Godhead (The Last Olympiad Book 1)
Ken Mooney


(32 Reviews)
Genre: Fantasy | Horror
FREE for a limited time
Ken Mooney brings the Greek gods to the present day in this exciting New Adult dark fantasy Olympus has fallen; new gods must rise. The Greek gods have been betrayed by one of their own. Zeus is dead, and Olympus is under siege by the demonic forces of Kaos. Their only chance of survival is to abandon the city, buying them time to regroup and rebuild. Thousands of years later, the children of the gods walk among us, guiding and protecting humanity. But there are some who don't know of the powers they have, or the secrets they must keep. The gods are no more, eliminated by their greatest enemy. And now, she wants to return home; no matter who is standing in her way.
Click here to get this book for FREE
° ° ° ° ° ° ° ° ° ° ° ° ° °