I saw this awesome gardening idea on Amazin Things, and I think I am going to try it out today. Instead of starting seeds in the trays, you put them in ice cream cones and then plant them directly in the ground when they are ready. I think with all the watering you need to do they won't look half as cute as they do in this picture, but it's worth a shot!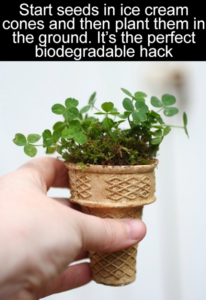 Slave Graves (River Sunday Romance Mysteries Book 1)
by Thomas Hollyday


(115 Reviews)
Genre: Contemporary Fiction | Mystery | Women's Fiction
FREE for a limited time
What evil and good will the archeologist find in the past of the small town? Dr. Frank Light, archaeologist, is vastly annoyed. He's settled into a plush life – cushy department-head job at a university, suave girlfriend, book in the works. Now he's been ordered into the sludgy, back-water marshes of Maryland to fend off hordes of mosquitoes, all because of an inconsequential find at a bridge construction site. Maggie, the outspoken state archaeologist working the dig, insists the shipwreck has historical significance. Pastor Allingham is even more vehement, insisting the decaying timbers hide a rumored, long-lost slave graveyard.
Real estate tycoon Jake Terment is furious that his construction project is held up by the growing concerns of Frank and his team. Jake cranks up the pressure for a quick resolution. Others passionately feel the archaeology project should either come to a crashing halt or press full speed ahead. An eclectic group of butterfly fanatics, a mysterious waterman of Mexican heritage, a curvaceous movie star, and even ghosts make their presence known.
When several attempts are made on the team members' lives, Frank draws on lessons from his Vietnam vet past. He has to decide on which side of this battle to stake his claim – and if he is ready to risk his life again for his beliefs.
The River Sunday Romance Mystery Series can be read in any order.
Click here to get this book for FREE
° ° ° ° ° ° ° ° ° ° ° ° ° °
Thief of Hearts (The Pruxnae Book 1)
by Lucy Varna


(19 Reviews)
Genre: Romance | Science Fiction
FREE for a limited time
On the eve of her appointment to the ranks of the elite Queen's Guard, Alna Lomig bumps into Gared ab Einif. Her wariness of the handsome Pruxnæ melts under his roguish charm, softening her resistance to his gentle courtship. When he sneaks into her room in the House of Jakuv, she offers one night of shelter and nothing more, certainly not the kiss he's come to claim.
Gared has more than a single kiss on his mind. He's searching for the one woman who can give him his most secret desire. To get it, he's not above kidnapping a beautiful Lady Warrior and hiding her away in her home planet's dense jungle.
The jungle holds more than refuge. Within its verdant foliage lurks a danger even a wily Pruxnæ isn't prepared for, forcing Alna and Gared to face the truth lying within their hearts before the jungle destroys them both.
Click here to get this book for FREE
° ° ° ° ° ° ° ° ° ° ° ° ° °
Blown-Away Man
by Tasha Harrison


(1 Review)
Genre: Women's Fiction | Contemporary Fiction | Humor & Satire
FREE for a limited time
'Blown-Away Man is a touching tale of what can happen when your life turns out just as you wanted it to, but not as you needed it to. With each new revelation in this complex story, you find yourself caring a little more about the characters, resulting in a poignant and heart-felt read. A brilliant book.' Dorothy Koomson, author of The Ice Cream Girls
Brought up in a sleepy Lincolnshire village by unassuming parents, Ed Sullivan has, since the age of eleven, been on a mission to live the fullest and most successful life he can.
Now 40, creative director at a renowned London ad agency and married with two young children, life has moved on and become a little too predictable for Ed's liking. Bored, restless and starting to doubt his achievements, he finds himself wondering what his old school friends are up to now…
It's not long before Ed sets off to Lincolnshire to meet a group of old classmates whom he hasn't seen in almost 25 years. But the evening turns out to be more of a distraction than he'd intended, when one of his old friends makes a revelation that turns his world upside down.
Click here to get this book for FREE
° ° ° ° ° ° ° ° ° ° ° ° ° °
Nzinga: African Warrior Queen
by Moses L. Howard


(8 Reviews)
Genre: Historical Fiction | Biographical
FREE for a limited time
Across the savannah and into the green mountains, people shouted her name:
"Nzinga, Nzinga, Child of the Flame!"
"Nzinga, Daughter of the Old Ngola, Savior of Ndongo!"
In the governor's palace Luanda, the Portuguese courtiers whisper in shock: A woman!
Sent to make a treaty with the invaders, Nzinga of Angola is swept into world history, a generation after Elizabeth I ruled England. For forty years, Queen Nzinga fights to destroy the imperial colonists who seek to enslave her people.
This fictional biography delivers exhilarating adventure and passionate stories of friendship, love, and family. The child Nzinga learns the ways of the ancestors through griots' songs. She studies the wisdom and warrior ways of her father, the old Ngola. The adult Nzinga, now queen, leads with brilliance during a time of violent upheaval. As a warrior, she inspires a distressed people to resist brutality and betrayal.
Luminous storytelling brings to life the Angolan culture in a flourishing African kingdom, now lost, where early maps of West Africa call out:
"Here reigned the celebrated Queen Nzinga!"
Moses L. Howard is an African-American author and educator. He served as a Fulbright Fellow in Africa and spent ten years training medical technologists and teachers in Uganda.
Click here to get this book for FREE
° ° ° ° ° ° ° ° ° ° ° ° ° °
Mediterranean Diet: Over 100 Delicious Slow Cooker Mediterranean Diet Recipes
by Alberto Benetti


(22 Reviews)
Genre: Cookbooks, Food & Wine
FREE for a limited time
Do you want delicious easy to make Mediterranean Diet slow cooker recipes that the whole family can enjoy? Do you want to be able to make healthy Mediterranean Diet meals but don't want to spend all day in the kitchen?
This book could be the answer you're looking for…
The American people are living just minutes away from dealing with a heart attack and other heart conditions. They spend most of their time eating out, cooking frozen meals, and just avoiding their exercise while dealing with a whole bunch of stress. All of this adds up to the perfect recipe for disaster. It is time to make a change, and not just with meal choices, but also with your whole lifestyle.
The Mediterranean diet is the perfect choice to get in better health overall. Whether you are trying to lose weight, prevent diabetes, work on your heart health, or reduce your stress, the Mediterranean diet is the perfect option for you. In fact, studies have consistently shown that this is one of the best diets for helping your heart health, working even better than the American Heart Associations recommendations.
This book is designed to empower you by providing quick and easy slow cooker recipes that don't skimp out on flavor!
With The Essential Slow Cooker Mediterranean Diet Cookbook you'll learn…
• Detailed Macro and Micro Nutritional Information For Each Recipe
• Cooking And Preparation Times To Find The Quickest And Easiest Recipes
• Over 100 Recipes In Easy to Find Categories: Chicken, Pork, Beef, Lamb, Pastas, Seafood and Vegetarian Dishes
• A Straight Forward Explanation about the Mediterranean Diet
• The Benefits Of One Slow Cooker and Slow Cooking Tips
Learn How To Make These Delicious Recipes:
• Chicken with Plum Tomatoes, Kalamata Olives, and Capers
• Butternut Squash Chicken with Couscous
• Italian-Inspired Spare Ribs
• Chicken Stew with Artichoke Hearts, Olives, and Couscous
• Beef Stew with Balsamic Vinegar and Rosemary
• Greek-Inspired Beef Bites
• Moroccan-Inspired Lamb Stew
• Lamb Shanks with Zucchini and Eggplants
• Crustless Quiche
• Cannellini and Kale Stew with Farro
• Shrimp with Feta and Tomato
• Cod, Mussels, and Cod Seafood Stew
• Beef Pasta with Zucchini, Tomato, and Carrots
• Mediterranean Minestrone
• And much, much more!
Get started on making delicious Mediterranean Diet slow cooker recipes and get your copy today!
Click here to get this book for FREE
° ° ° ° ° ° ° ° ° ° ° ° ° °