Sometimes when I am doing dishes, scrubbing the toilets or dusting the house, I daydream about my younger days. Some memories good, some bad. I often come up with great comebacks to rude remarks that I will never be able to use. It would be just weird if I called up some long lost classmate from high school and gave him my awesome comeback. That would just be Steve Buscemi in Billy Madison with his red lipstick and list of people, kinda crazy. There was one time when my awesome level was super high. I was a sophomore in high school, and when I arrived to my seat in history class I had noticed a baseball cap on my seat. I looked at it for a moment a bit confused. That was when the boy next to me said,"You can't sit there today, my hat is sitting there." I calmly picked up his hat, tossed it to the other side of the room and took my seat. The whole room went silent. All eyes were on me and the boy, waiting to see what he was going to do next. I remember looking at him with the most blank stare I could muster, but I was sure everyone could see my face turning beet red. The boy just looked at me, huffed, retrieved his hat and sat back down. I felt awesome. Today, when I am not feeling quite so awesome, I look for the girl I was that moment, and have her step forward. Then I am awesome again.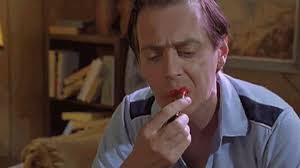 The Seven Steps to Closure
by Donna Joy Usher

(924 Reviews)
Genre: Romance
FREE for a limited time
Tara Babcock awakes the morning after her 30th birthday with a hangover that could kill an elephant – and the knowledge she is still no closer to achieving closure on her marriage breakup. Things go from bad to worse when she discovers that, not only is her ex-husband engaged to her cousin – Tash, the woman he left her for – but that Jake is also running for Lord Mayor of Sydney.
Desperate to leave the destructive relationship behind and with nothing to lose, she decides – with encouragement from her three best friends – to follow the dubious advice from a magazine article, Closure in Seven Easy Steps.
The Seven Steps to Closure follows Tara on her sometimes disastrous – always hilarious – path to achieve the seemingly impossible.
A credible and amazingly touching debut novel from Donna Joy Usher, this is a solid, light-hearted and honest read with plenty of laughs.
Click here to get this book for FREE
° ° ° ° ° ° ° ° ° ° ° ° ° °
Bullet River (The Garbage Collector 2)
by Dan Ames


(32 Reviews)
Genre: Thrillers | Mystery
FREE for a limited time
A gruesome discovery… a blast from the past.
The Garbage Collector is back.
In this sequel, the private investigator/bounty hunter known simply as The Garbage Collector discovers the body of a dead woman floating in a river near his temporary hideout. The woman, it turns out, is someone he once knew very well.
Click here to get this book for FREE
° ° ° ° ° ° ° ° ° ° ° ° ° °
Cursed Secrets: Legacy of Secrets: Book 1
by Lisa Logue


(24 Reviews)
Genre: Fantasy | Romance
FREE for a limited time
Ten years ago, Lia's life had been normal, until she witnessed a murder. Since then she's been plagued by reliving that horrible night in a dream. But that wasn't the worst of her problems. A force had awakened inside her, unleashing something so frightening, she couldn't bear being close to anyone.Until she met Christian.Intrigued by her power and the strange connection between them, Christian is determined to find out what makes her tick. Struggling to keep his urges under control, he vows to stand by her. But as her past is revealed, he uncovers secrets that shake him to the core, forcing a decision that could lead to her death.
Click here to get this book for FREE
° ° ° ° ° ° ° ° ° ° ° ° ° °
Churchill's Ace (Epic War Series Book 1)
by Greg M. Sheehan


(24 Reviews)
Genre: Thrillers | Historical Fiction
FREE for a limited time
Nazi Germany is entering a dangerous period of its existence and a young German boy, Wolf Kruger, dreams of becoming a fighter ace in the feared Luftwaffe. His parents, however, have higher aspirations for their talented son and are beginning to voice concerns over Hitler and his increasingly frightening megalomania, something which ultimately costs them their lives.
Meanwhile, in Great Britain, there is a single voice of reason, standing up to the rise of the Nazis and challenging the appeasement of the British government as they give in, time and again, to Hitler's demands. Winston Churchill warns against allowing the Fuhrer to get away with too much and urges others to make a stand.
Little does Churchill and Kruger realize, but their lives are soon to become inextricably intertwined as the boy grows into a man, and the politician in the wilderness grows into one of the most formidable statesmen of the 20th Century.
Packed with history, fighter pilots and intrigue, this is the first book in the fast-paced Epic War series, featuring the intellect and persona of Winston Churchill and a host of other memorable characters, including Madeline, Winston's headstrong niece who is a match for any man… or fighter pilot.
Click here to get this book for FREE
° ° ° ° ° ° ° ° ° ° ° ° ° °
Redemption in Time
by William Clark


(18 Reviews)
Genre: Action & Adventure | Suspense
FREE for a limited time
Redemption in Time was originally written as a three-part saga. The first two books were published as "Redemption in Time/ Best Intensions" and "Redemption in Time/ Stone Gate". All three parts of the saga are in the new REDEMPTION IN TIME NOVEL (135,00+ words)
Part one/ BEST INTENSTIONS
Having worked sixteen years, Dr. Bruce Taylor has discovered how to bend the space-time continuum. He is a retired aeronautical engineer with an all-consuming obsession with the Battle of the Little Bighorn, an obsession that takes him on a mind-bending journey filled with incredible consequences of interfering with the past. Professor Greg Gander, an archeologist from the University of Montana, discovers an astonishing artifact on a dig that brings him in contact with Taylor. The men form an alliance and soon set out on a stunning adventure that changes everything.
Part two/ STONE GATE
Chris Kelly and Greg Gander find themselves working together to reproduce the time travel process developed by Dr. Bruce Taylor in a spectacular attempt to rescue friends who have become trapped in a history unknown to them. Their efforts are hijacked by an all-powerful government shadow organization called "the Kingdom" in a project deemed STONEGATE.
Meanwhile Dr. Taylor finds he must answer questions by those who have observed him at the Battle of the Little Big Horn and Deputy Dillon, an unwilling traveler finds a restless peace in the Big Sky Country of 1876.
And now – The Conclusion in Part three / ZERO TRACE –
Click here to get this book for FREE
° ° ° ° ° ° ° ° ° ° ° ° ° °