Last night on the news the anchor said that "Somehow, a driver in southern California hit the center divide and landed on the second story of an apartment building. I do not accept this. There is no way the news should be allowed to tell me "Somehow". I need facts on this one because this will drive me nuts trying to think about how this could have happened. This morning my brain is still hurting, trying to think how a car can land in the second story of an apartment building. Thankfully there were only minor injuries.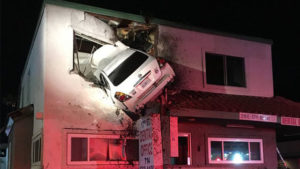 Glimpse of Death: A Riveting Serial Killer Thriller
by Leslie Wolfe


(298 Reviews)
Genre: Crime Fiction | Literature & Fiction | Women's Fiction
FREE for a limited time
A RIVETING SERIAL KILLER THRILLER
Her beautiful face, serene and immobile, resting on her folded arm. Her long, luscious hair, undulating gently in the evening breeze. Her eyes half-closed, a hint of a smile on her pale lips, as if to welcome an unseen lover.
When the body of a young woman is found in her own backyard, a week after her disappearance, evidence leads investigators to a chilling conclusion. She is not the first victim of a serial killer no one knew existed. She most definitely is not the last.
FBI Special Agent Tess Winnett joins the local detectives assigned to the case and searches for answers in the intriguing investigation that offers a plethora of forensic evidence, yet no viable leads. When another body is found, the search intensifies, and details about the killer's unusual signature emerge. He likes to stalk his victims before abducting them. He likes to show them a flash of what's coming, a foreboding warning of their grim future.
At first, she caught a glimpse of a man, standing in the shadows, watching her.
She thought she saw his eyes, and the sight of them chilled her to the bone.
She saw his hands, and they were the hands of a killer.
She caught a Glimpse of Death.
Join smart, relentless Tess Winnett and her seasoned team on a heart-stopping hunt for a serial killer, who mercilessly takes lives, preying on young, unsuspecting mothers. Resourceful, creative, and uncompromising, Tess will stop at nothing to catch the killer before he shatters another innocent life, taking readers on a memorable, white-knuckled journey in this masterful, riveting, serial killer thriller.
The best-selling author of Dawn Girl and The Watson Girl is back with another suspenseful, riveting crime thriller. If you're a fan of intense, fast-moving police procedurals, you will enjoy reading Leslie Wolfe.
Click here to get this book for FREE
° ° ° ° ° ° ° ° ° ° ° ° ° °
To Bewitch a Highlander (Isle of Mull Series Book 1)
by Lily Baldwin, Joseph Marquette


(251 Reviews)
Genre: Romance
FREE for a limited time
A Scottish Medieval Romance
Isle of Mull, Scotland 1263
She will protect her identity with her very life if necessary. Who will protect her from herself?
Shoney's lightning speed with a bow captures Ronan by surprise, and their chance meeting ends with him lying unconscious at the bottom of a ravine.
When he awakens, he cannot rid his mind of her startling beauty, her valor, or the secret fear he glimpsed in her steel eyes. He vows to find her, but as the mysteries of her identity unfold, his courage and heart are tested as never before.
Click here to get this book for FREE
° ° ° ° ° ° ° ° ° ° ° ° ° °
FERTS: (Book 1)
by Grace Hudson


(45 Reviews)
Genre: Fantasy | Horror | Science Fiction
FREE for a limited time
The war is over. Resources are scarce. The population is dwindling in the Forkstream Territories.
Pinnacle Officer Wilcox has created FERTS amidst the chaos, a facility designed to protect the female population from raiding hordes.
Beth 259201, a newly-demoted Epsilon Internee, suspects that there is something more that lurks beneath the carefully constructed order of the facility.
She has a gift, one that could brand her a defective. A novice fighter, she must use her intellect to survive. Her own life, and the lives of many more may be at risk. Will she succumb to the plans in store for her or will she conceal her secret long enough to discover her own path?
FERTS is a post-apocalyptic dystopian thriller. Reader discretion is advised.
Click here to get this book for FREE
° ° ° ° ° ° ° ° ° ° ° ° ° °
Four Play: A Humorous and Romantic Cozy (Cue Ball Mysteries Book 4)
by Cindy Blackburn


(145 Reviews)
Genre: Literature & Fiction | Humor & Satire | Mystery
FREE for a limited time
Bad news comes in… fours? For romance author and former pool shark Jessie Hewitt it does. She hasn't written a decent sex scene in months, she hasn't shot a decent game of eight ball all year, and don't even ask about her supposed love life. And just when Jessie thinks things can't get any worse, a body lands on her car. Uber-hunky and altogether infuriating cop Wilson Rye suggests she concentrate on solving her other problems and leave the murder investigation to the experts. But does Jessie agree? Take a guess.
Click here to get this book for FREE
° ° ° ° ° ° ° ° ° ° ° ° ° °
Buffalo Soldier: Battle at Dead Man's Gulch
by Charles Ray


(3 Reviews)
Genre: Literature & Fiction | Westerns
FREE for a limited time
First Sergeant Ben Carter and his detachment are dispatched to the western part of New Mexico Territory to track down a band of renegade Apache who have bolted the reservation. After days on the renegades' trail, they've come up dry, until they encounter them in the mountains south of Santa Fe. After a brief skirmish, the renegades elude Ben once again. Hot on their tail, Ben and his men are faced with life and death decisions – they discover a grisly scene indicating that the Apache are not the only deadly perils awaiting them in the shadow of the mountain.
Nor are they only ones in danger. At Dead Man's Gulch, they come upon a small detachment of the Sixth Cavalry, a white unit stationed in Arizona Territory that has been chasing its own band of renegades, only to find itself trapped and in danger of being annihilated until the Buffalo Soldiers of the Ninth Cavalry come to their rescue.
Ride along with the Buffalo Soldiers as they face death, danger and discrimination on the western frontier.
Click here to get this book for FREE
° ° ° ° ° ° ° ° ° ° ° ° ° °
The Busy Mom Cookbook: 15-Minute Homemade Express Dinners When You're Just Too Busy (40 Recipes Included)!
by Olivia Rogers

(23 Reviews)
Genre: Parenting & Relationships | Cookbooks, Food & Wine
FREE for a limited time
Make tasty homemade dinners for your family every night that only take 15 minutes (perfect if you're super busy)!
What if you could quickly whip up dinner in 15 minutes a night that still tastes delicious and has your family thinking it took hours?
Imagine feeding your family tasty dinners that are quick to make but still very healthy! Think of all the time you could get back in your day!
Multi-time best selling cooking author and influencer, Olivia Rogers, shares with you some of her favorite "busy mom" dinners that you can cook for your entire family. With over a million readers and subscribers to her blog, the recipes in this book are the most popular because they are the tastiest and quickest to cook (she has made sure that every recipe in this book takes no more than 15 minutes to cook – and this includes all prep time)!
Do you want to spend less time in the kitchen preparing dinner each night?
Do you wish you could make tasty AND healthy dinners for your family, but struggle to find the time in your schedule?
Or if the idea of having a collection of healthy family dinners that can be cooked in 15 minutes sounds appealing to you…
THEN THIS BOOK IS FOR YOU!
In this book, you will get:
• Images included with all of the recipes, so you know exactly what dinner will look like even before you begin to cook.
• An entire collection of healthy family dinners that taste amazing even though they can be cooked in 15 minutes or less.
• Comprehensive step-by-step instructions for each recipe, including all the ingredients you will need, so that anyone can follow along (even those who don't spend much time in the kitchen).
• Olivia's personal email address for unlimited customer support if you have any questions.
• And much, much more…
Click here to get this book for FREE
° ° ° ° ° ° ° ° ° ° ° ° ° °