We were party animals last night! Who can resist a wild game of chicken stacking?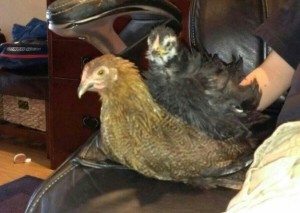 A DEAD RED HEART (#2 in The Dead Red Mystery series)
RP Dahlke


(120 Reviews)
Genre: Humor & Satire | Mystery, Thriller & Suspense
FREE for a limited time
When a lovesick, homeless veteran litters her vintage red caddy with paper snowflakes, Lalla Bains, Aero Ag pilot figures it's time for a showdown. Unfortunately, someone else has the same idea leaving Lalla with a dying man at her feet, and only his strange last words, "The more there is, the less you see," as a clue to his killer.
Compounding her life her tightwad, widowed father becomes a born-again ladies man, a disreputable competitor tries to push her out of business, and last but not least, her antennae twitches that the sultry redhead in Modesto's police department may be vying for Sheriff Caleb Stone's affections.
It soon becomes crystal clear that the police are totally off base on this murder investigation and someone else is going to have to suit up to solve this case. Someone who is just exasperating, pushy, and tenacious enough to get the job done–and that person will be none other than:Ms. Lalla Bains.
Click here to get this book for FREE
(also available from Amazon. DE  FR  IT  ES )
° ° ° ° ° ° ° ° ° ° ° ° ° °
Playing at Forever
Michelle Brewer


(36 Reviews)
Genre: Contemporary Fiction | Romance
FREE for a limited time
After achieving his dream of making it in Hollywood, Tommy Davidson returns to Ravenside, running away from the emptiness that had come with his success and the beginnings of a floundering career.There, he finds Penny Lang—beautiful as ever, but struggling with her own problems. Sure, she had the restaurant she'd always dreamed of, but the cost had been high—and it had included her marriage.Now, her ex is threatening to take it all away from her.
With the two of them so close to losing everything they have worked so hard for, it only seems natural that they help each other out.Tommy's image is in need of some refreshing and Penny is just the girl for the job.If Penny acts as if she and Tommy are together for the long-haul, Tommy will make sure Penny keeps her restaurant.
Simple enough in thought, but as the line between reality and fiction blurs, the two of them are forced to decide…how much of it is really just an act?
Click here to get this book for FREE
(also available from Amazon. DE  FR  IT  ES )
° ° ° ° ° ° ° ° ° ° ° ° ° °
MURPHY'S AMERICAN DREAM
James Dempsey


(21 Reviews)
Genre: Satire | Humor & Entertainment | Humor & Satire
FREE for a limited time
If satire is your passion, then you will really appreciate MURPHY'S AMERICAN DREAM by the award-winning journalist James Dempsey. Take a ride with Alexander Aloysius Aristophanes Murphy II as his world collides with everyone and everything that Boston has to offer; where even crossing the street disturbs destiny and punches a hole in the universe. Climb aboard for an unforgettable trip captained by one of the most unusual yet perversely charming degenerates to walk across the pages of a book.
Remember MURPHY'S AMERICAN DREAM is not for those who love puppies, bouquets of flowers and romantic Sunday strolls in the park. But if you want to share time with a man caught between the forces of conscience and disaster, forces that challenge him at every twist and turn, then sign up for this wildly original and outrageously humorous adventure.
Click here to get this book for FREE
(also available from Amazon. DE  FR  IT  ES )
° ° ° ° ° ° ° ° ° ° ° ° ° °
Double Crossing
Meg Mims


(43 Reviews)
Genre: Mystery, Thriller & Suspense | Westerns
FREE for a limited time
A murder arranged as a suicide … a missing deed … and a bereft daughter whose sheltered world is shattered.
August, 1869: Lily Granville is stunned by her father's murder. Only one other person knows about a valuable California gold mine deed — both are now missing. Lily heads west on the newly opened transcontinental railroad, determined to track the killer. She soon realizes she is no longer the hunter but the prey.
As things progress from bad to worse, Lily is uncertain who to trust–the China-bound missionary who wants to marry her, or the wandering Texan who offers to protect her … for a price. Will Lily survive the journey and unexpected betrayal?
Click here to get this book for FREE
(also available from Amazon. DE  FR  IT  ES )
° ° ° ° ° ° ° ° ° ° ° ° ° °
Good Morning, Sun
Rebecca Hamilton


(17 Reviews)
Genre: Children's eBooks
FREE for a limited time
For fans of Goodnight Moon by Margaret Wise Brown, this tribute to her work is sure to delight both you and your child, with illustrations designed to heighten your child's cognitive development through word and picture associations.
In a great big world, with endless corners to explore, is a day awaiting exploration and fun. "Good morning skies, and butterflies." And to all the things and people in this world that are worth exploring — to flowers and frogs, to kittens and dogs, to playgrounds with slides and mothers breastfeeding with pride — your little one can say, "Good morning!" There's no better book to start your little one's day!
Click here to get this book for FREE
(also available from Amazon. DE  FR  IT  ES )
° ° ° ° ° ° ° ° ° ° ° ° ° °