I am so excited about the new Jurassic World movie. I loved Jurassic Park oh so many years ago (the following ones were okay, but nothing like the first). I loved the special effects, the sound in the theater, all the action! Remember the glass of water in the jeep and the ripple in the water? My heart froze! OH MY GOSH. I CAN'T WAIT! They have pterodactyls in this one. This should be good. We complain about birds pooping on our heads, can you imagine a pterodactyl's poop? I wonder if they touch on that in the movie.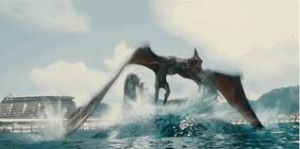 In Kala's Hands: A Lakota Sioux Proclamation
Mary Crocco


(12 Reviews)
Genre: Historical Fiction | United States
FREE for a limited time
In Kala's Hands, A Lakota Sioux Proclamation, by Mary Crocco, is about a special young woman named Kala, who spends her first twenty-four years as a wannabe artist. Kala has no talent, which makes her life miserable as she suffers humiliation from her teachers and classmates. Always having support from her friends and family doesn't make up for her pensive sadness. Aware her daily scribbles lack talent, she retains her passion.
Living in Rapid City, South Dakota, Kala visits art galleries and museums so often, the staff knows her intimately. Hoping to work at a gallery is a dream that she prepares for by educating herself through college in art history.
Washing dishes at home, Kala suffers a horrific accident and mangles her right hand. During her emergency room visit, an unexpected visitor appears, Howahkan, from the Lakota Sioux Nation, and wraps a sacred blanket around her shoulders while reminding her of a proclamation declared on the day of her birth.Before she leaves the hospital, her hand is miraculously cured, which results in Kala possessing artistic talent. Shocking Kala, but understanding she now has a destiny to fulfill, absorbs her existence.
Click here to get this book for FREE
° ° ° ° ° ° ° ° ° ° ° ° ° °
H.T. Night's 8-Book Vampire Box Set
H.T. Night


(137 Reviews)
Genre: Fantasy | Romance
FREE for a limited time
Eight bestselling vampire novels from #1 bestselling author, H.T. Night, including:
VAMPIRE LOVE STORY
Josiah Reign is a lover and a fighter. Out for a simple jog, he happens upon a young woman who needs help. So Josiah does what he does best. He takes on her attackers… all five of them, in fact. Little does Josiah know that this one act of goodwill will introduce him to a very strange world, a world of dreams… and nightmares.
THE WEREWOLF WHISPERER
For Josiah Reign, life as he knows it has been forever changed. In two shorts months he went from unbeliever to the "The Chosen" – savior of the Mani people (a vampire race that has been living underground for 10,000 years). Now Josiah must learn to control his powerful new body, all while understanding his destiny… and falling deeper in love.
FOREVER AND ALWAYS
Josiah heads for Europe to understand his gifts, where he trains with a very unlikely master. Soon, Josiah is fighting off enemies from all sides, all while his love, Lena. Along the way, two unsuspecting enemies surface and now Josiah needs to protect what is rightfully his.
VAMPIRES VS. WEREWOLVES
Josiah is building his own Mani army to take on Krull for a future battle of epic proportions. Old and new loves reveal themselves as Josiah comes to terms with his destiny.
WEREWOLF LOVE STORY: PART ONE
Tommy Jensen is a rising star in mixed martial arts fighting. One night, while training hard for his second MMA match, he comes across a sexy, mysterious woman named Sasha. For Tommy, this is the beginning of something new and horrible… something strange and wondrous. This is the beginning of his immortality. In desperate need for answers, Tommy will soon come upon the woman who will change his life forever. Beautiful Maya has the answers he seeks… but Tommy wants a lot more than answers. He wants her heart. And that's something he's willing to fight for.
WEREWOLF LOVE STORY: PART TWO
Tommy Jensen meets Maya, the woman of his dreams, and is finally able to make sense of his new reality. His very strange reality. Also, young Josiah Reign befriends Tommy along the way, and Tommy has to inevitably face his true destiny of becoming a werewolf. Will Tommy choose his destiny, or become something no one had ever thought possible?
THE RISE OF KYRO
Tommy is back. Now, he just needs to figure out what it means to be a werewolf while keeping it a secret from young Josiah, his enthusiastic fight prodigy with a superhero complex.
BAD BLOOD
They call him Spider. And people come to him when they have a problem. So when teenager Parker Cole approaches Spider at night school, he figures she's just another problem waiting to happen. But then she tells him about her father, who runs a cult called Cloudland based at the foot of mystical Mount Shasta, California. And then she tells Spider about her best friend, who is now dead, her body completely drained of blood. Spider wonders if the death is the work of a fellow vampire… or if he's now the target of a sinister game designed to lure him to Cloudland, where darker mysteries await.
Click here to get this book for FREE
° ° ° ° ° ° ° ° ° ° ° ° ° °
Ribbons of Death
Edita A. Petrick


(17 Reviews)
Genre: Mystery, Thriller & Suspense
FREE for a limited time
When the federal agent Timothy J. Carter, undercover as an executive with an Ohio environmental firm, sets out to visit Stella Hunter, a disgraced academic, he expects to gain insight on possible causes of a recent outbreak of madness at a peaceful women's rally in Cairo. His scarred face and a short footage of the riot are the evidence he means to use to persuade her to help him without probing his reasons. What he doesn't expect to hear is that a product of ancient myths and legends is causing these deadly riots. And that another crackpot academic spent ten years chasing after this mythological deity. But twenty-four hours later, when a peaceful rally at the Mall in Washington disintegrates into murderous riot that leaves hundreds dead and thousands injured, Carter is forced to consider the unthinkable: What if the product of ancient myths and legends somehow made it on to the US soil… ?
Click here to get this book for FREE
° ° ° ° ° ° ° ° ° ° ° ° ° °
L.A. Secret Police.Inside the LAPD Elite Spy Network
Mike Rothmiller


(43 Reviews)
Genre: Biographies & Memoirs
FREE for a limited time
L.A. Secret Police. Inside the LAPD Elite Spy Network is a New York Times and Los Angeles Times Bestseller. This incredible non-fiction book rips the lid off the LAPD and exposes the reader to its dark underbelly of corruption during the reign of Chief Daryl Gates. L.A. cops ruined lives and reputations, inflicted mindless brutality, committed murder and engaged in massive cover-ups. In Los Angeles, police corruption was much more than unmarked envelopes stuffed with cash. It was a total corruption of power. For decades LAPD engaged in massive illegal spying and lied about it. Its spying targets included politicians, movie stars, professional athletes, news reporters and anyone wielding power or those of interest to Daryl Gates. Incredibly, the spying targets included a Director of the Central Intelligence Agency, a Secretary of Defense, a current Governor and the President of the United States. It all happened in Los Angeles.
Detective Rothmiller is the modern-day Frank Serpico; he exposed the tentacles of corruption which reached to the highest levels within the LAPD and Washington D.C. It wasn't long after that an assassin attempted to take his life. It was apparent to many that powerful forces wanted him silenced. Incredibly, in this book Detective Rothmiller names names! See why this book changed the LAPD and is required reading at many universities. As former Assistant United States Attorney Marvin Rudnick said, "Rothmiller was in a position to know. He did very sensitive work."
Every book has an ending. However, the ending of this book will shock you. Within the new epilogue is a multi-page essay written especially for this updated book by Pulitzer Prize winning journalist David Cay Johnston. In it he describes his personal experience as a target of Daryl Gates illegal intelligence operations while he served as a Los Angeles Times reporter. You'll also read the challenge posed by detective Rothmiller to the LAPD. A challenge LAPD has refused to answer.
Since releasing this updated eBook, Detective Rothmiller has been interviewed dozens of times by the national media regarding current NSA domestic spying and the 2013 murderous rampage of former LAPD cop Christopher Dorner. In late 2013 Detective Rothmiller was interviewed for a major television documentary which will expose corruption and major crimes committed at the highest levels. The documentary is scheduled for release in 2016.
Click here to get this book for FREE
° ° ° ° ° ° ° ° ° ° ° ° ° °
Battle of North Shore Beach
J. C. Skye


(29 Reviews)
Genre: Children's eBooks
FREE for a limited time
Things just keep getting weirder and weirder in the sleepy, seaside town of Astoria, Oregon. Danielle Knowles just recently found out that her older sister is having an affair with her boyfriend. When she confronts her sister about it, the older sibling turns into a complete monster. Danielle wants to tell someone about it, but the whole town is acting strange. The only person she can really trust is her best friend, Xeno.
The two teenagers try to make sense of all that's happened in Astoria, but it's pretty hard to believe. Is there really a flock of invisible sheep roaming the town, pillaging stores and killing people? Are people really becoming possessed by the spirits of vengeful ghosts? Is Danielle's very own sister trying to kill her?
Despite these strange occurrences, Danielle is making new friends. Her boss at the White Sands Café is certainly a bit weird, but she keeps putting wads of cash in Danielle's pocket. That cute homeless boy might not speak a word of English, but he sure is dreamy and charismatic. Yet, even they seem to fit right in with the chaos that surrounds the entire community.
Eventually, Danielle learns that they're not entirely who or what they seem. Her new friends have secrets of their own. They also have the power to either save the world or end it. Yet, why is Danielle caught up in the middle of all this? Does she have some sort of role to play in this cosmic chaos descending upon her hometown? Or is she just the only person capable of seeing things for what they truly are?
Find out in "Battle of North Shore Beach". It's the second and final installment of The Awakening Rage series.
Click here to get this book for FREE
° ° ° ° ° ° ° ° ° ° ° ° ° °