If you didn't think Morgan Freeman was already the coolest guy around, now his cool level just doubled. I Pinned the full article on my "In The News" board on Pinterest. You can click here to read the full article.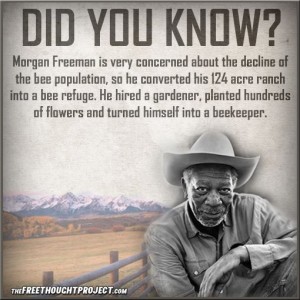 Power of Love (The Armstrongs Book 1)
Jessica Gray


(3 Reviews)
Genre: Anthologies | Anthologies & Literature Collections | Romance
FREE for a limited time
Handsome and successful divorce lawyer Trevor Armstrong doesn't believe in love anymore. Every day he sees marriage after marriage fail. When he wins another prestigious case he just wants to wind down and forget the harsh reality of life, a woman is not on his mind – until Nicole Kendrick enters the bar. She changes everything he thought to know about women.
Nicole Kendrick needs Trevor Armstrong – as an interview guest for her radio show. Not more. Not less. Definitely not for love. She's been burnt before and has vowed to never again let a man control her. She needs to guard her heart and protect herself from men. Especially from Trevor, who's a lot more attractive than she's willing to admit.
Can Nicole and Trevor find a way to have their happily ever after? Or does her ex destroy everything?
Click here to get this book for FREE
° ° ° ° ° ° ° ° ° ° ° ° ° °
Alpha Threat
Ron Smoak


(63 Reviews)
Genre: Action & Adventure | Mystery, Thriller & Suspense
FREE for a limited time
The year is 1945.Germany is on her knees.The Allies are streaming into Germany from all sides.The end of World War II is near.Even so, some of Hitler's most secret plans are beginning to yield success. Some of these plans are familiar; some are not.Some are lost; others live only to rise again.This is a story steeped in truth…
It is a massive secret.One largely unknown to the Allies until well after the war ends.It is a secret that could potentially destroy the world's economy regardless of the war's outcome.It is the Third Reich's most closely held plan; even more secret than the German nuclear or rocket propulsion programs but as threatening nonetheless.
Sixty-six years later, Dana and Randall Finley are in the midst of an anthropology expedition in the rainforests of the Amazon when they are kidnapped by mysterious men in black and taken to a vast underground complex.Their situation is dire.
Back in Miami, Florida, former U.S. Navy SEAL Dane Skoglund stumbles across a sinister, shady group dealing in precious metals and death.When he learns his sister and brother-in-law are missing, Dane is drawn into action.
Unknown to all but a select few, the stronghold in the Amazon jungle is the key to the Nazi's real goal to rule the world by destroying the world's economy.Dane follows the trail to this jungle lair to rescue his sister's group and encounters the Germans firsthand.
Click here to get this book for FREE
° ° ° ° ° ° ° ° ° ° ° ° ° °
The Thousand Year Curse (A Curse Books Book 1)
Taylor Lavati


(39 Reviews)
Genre: Mythology & Folk Tales | Fantasy
FREE for a limited time
Being a teenager isn't all fun and games for seventeen year old Ryder. After being thrown down the social hierarchy, Ryder Mason has one goal for her senior year- survive.
Within the first month of school, Ryder goes from bullied teen to a cursed half goddess with two boyfriends. As if that wasn't enough, she travels into the Underworld to confront Hades about the curse and her missing mother.
Ryder delves head first into a Godly world as her two knights fight to seek her approval, her best friend's loyalties are tested and people's true intentions are shown in the first Curse Books novel.
*Author Disclaimer* Book contains adult situations. (For younger audiences skip chapter 16)
Click here to get this book for FREE
° ° ° ° ° ° ° ° ° ° ° ° ° °
Turn Around Where Possible
Martin Pond


(19 Reviews)
Genre: Horror | Short Stories
FREE for a limited time
In this "don't go in the woodshed"-style short horror story, a young couple get off the beaten track in search of a bite to eat, and finds a horrific meal…
Click here to get this book for FREE
° ° ° ° ° ° ° ° ° ° ° ° ° °
Crimzon & Clover II – The Tricky Wizard: Crimzon & Clover Short Story Series (Crimzon and Clover Short Story Series Book 2)
M. R. Mathias


(29 Reviews)
Genre: Children's eBooks | Short Stories | Fantasy
FREE for a limited time
After racing off to save a pair of poisoned orphans, Clover soon learns that she, and her dragon Crimzon, might have been duped. Is the round old wizard who summoned her what he seems? Or did he lure them into his trap? Excitement and magic await in this second installment of the Crimson & Clover short story series.
Click here to get this book for FREE
° ° ° ° ° ° ° ° ° ° ° ° ° °