We have a nice little walk to the lake from our campsite and it is a bit of an adventure. An entire field of purple flowers, filled with happy little bees. FILLED with bees. So many bees that you would doubt there was any danger to the bee population in our area. The only advice I could give to my baby bassets is to have happy calm thoughts. Happy happy calm thoughts.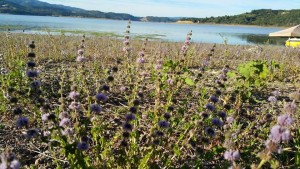 Matt Vol I: (A Matt Godfrey Short Story Thriller Series)
Ahmad Ardalan


(9 Reviews)
Genre: Mystery, Thriller & Suspense | Contemporary Fiction | Short Stories
FREE for a limited time
"Matt Vol I" is the beginning of a short novella thriller series. Matt Vol II (Chaos in Dubai) is available now! "They murdered my wife two years ago… Tonight, you die. I am Matt, your nightmare!" On a quiet night like any other, Matt, a successful entrepreneur, returns home to his gorgeous villa, only to find his wife brutally murdered. A soft verdict against the culprits, a gang of violent teenagers, spins Matt's relatively calm and collected demeanor into something far more sinister. In a manic rage, he seeks vengeance for what has been stolen from him, and he lashes out against the weak system. Sleepless, lonely, tormented nights torture him, filling his head and his heart with frustration, hate, and anger, unleashing an entirely different side of the man–a monster even he did not know existed within him. From Berlin to Rome to Paris, the great cities of the world suffer in the wake of his wrath, as brutal, barbaric killings seem to be the only temporary antidote for his fuming, blood-boiling rage. His victims, so easily deprived of life, seem to be the only cure, the only way to soothe his yearning for revenge, or are they?
Click here to get this book for FREE
° ° ° ° ° ° ° ° ° ° ° ° ° °
Venture Untamed (The Venture Books Book 1)
R.H. Russell


(87 Reviews)
Genre: Religious & Inspirational Fiction | Action & Adventure | Religion & Spirituality | Teen & Young Adult
FREE for a limited time
Venture Delving is a bonded servant, a member of the lowest class in the world. Already fatherless, when he loses his mother, he veers from energetic to out of control. But when Venture's rage saves the life of Jade, his best friend and his master's daughter, Venture finds himself in the last place he ever expected–a center renowned for training young boys to be professional fighters.
When Venture realizes he's fallen in love with Jade, he knows that the only way he'll ever have her, the only way he'll ever be free to live the life he's meant to live, is to defy convention, common sense, the trust of those he cares about most–and sometimes the law–and become the best fighter in the world, the Champion of All Richland. Venture must battle not only rival fighters, but the ghosts of his past and the members of a privileged warrior class who stand between him and his dream.
Venture Book One. Ages 13 and up.
Click here to get this book for FREE
° ° ° ° ° ° ° ° ° ° ° ° ° °
Out of the Shoebox: An Autobiographic Mystery (Historical Nonfiction story)
Yaron Reshef

(237 Reviews)
Genre: World Literature | Biographies & Memoirs
FREE for a limited time
Did you ever get a phone call that changed your life? That is what happened to author of this book. A mysterious unexpected phone call hurls Yaron Reshef into an intensive two-year journey, during which he has to solve a mystery that took shape in the 1930s and gradually unfolded in the present. A mysterious lot, a forgotten bank account, a people long gone "" along with their memory which were obliterated during the Holocaust. All of these rise to the surface, bearing with them memories and emotions previously hidden away in the shoebox. Out of the Shoebox is a fascinating journal that reads like a detective story, comes across as an imaginative quest into the past, yet is the true personal story of the writer, Yaron Reshef. "I had no intention of writing a book. I had no need to write a story in general nor a story about my family and the Holocaust in particular. But life being what it is, sometimes things happen in mysterious, even surprising ways. Stuff that used to take center stage moves to the background, and background stuff moves downstage and center. That's what happened in my case.
Click here to get this book for FREE
° ° ° ° ° ° ° ° ° ° ° ° ° °
Unreal City
A. R. Meyering


(14 Reviews)
Genre: Horror | Fantasy
FREE for a limited time
Sarah Wilkes is desperate enough to do anything, even make a deal with the devil — or in her case, a familiar spirit. After her twin Lea is murdered, Sarah finds college life impossible and longs to escape. Everything changes when Sarah realizes a familiar spirit is stalking her and offers to transport her to the terrifying and fantastical realm of Unreal City. The payment for admission? A taste of her blood. Unable to resist, Sarah is drawn into an alternate reality that is a dream come true… at first. The deeper she explores Unreal City, the more Sarah's reality becomes warped. Death surrounds her as people are murdered in the same fashion as her sister. She has no choice but to continue her visits to Unreal City, which grows darker by the day. Is finding out the truth about what happened to Lea worth becoming part of Unreal City forever?
Click here to get this book for FREE
° ° ° ° ° ° ° ° ° ° ° ° ° °
Church of the White Rabbits
Huw Thomas


(4 Reviews)
Genre: Children's eBooks | Contemporary Fiction | Literary Fiction | Teen & Young Adult
FREE for a limited time
Revenge, blackmail, family feuds, revolution… and lots of white rabbits! Published June 2014, 'Church of the White Rabbits' is the new novel from award-winning British indie author Huw Thomas. Inspired by the likes of 'Cold Comfort Farm' and the TV series such as 'Northern Exposure' and 'Two Thousand Acres of Sky', the new book marks a departure in style. No murders or mysteries, but lots of eccentric characters and quirky adventures.
'Church of the White Rabbits': A saga of family feuds and power struggles on an island populated by eccentrics, misfits… and an ever-growing number of white rabbits. Far out in the Atlantic lies Black Island, a remote and windswept outpost of the British Isles. Once the haunt of pirates, life here follows a different pace. For more than two centuries, the Black Family has ruled the island as their personal fiefdom. But, although they still control most aspects of island life, the family line is in danger of dying out. With no heir to be found, the island's affairs are now in the grasping hands of family steward Clarence Wherry, whose financial incompetence is matched only by his arrogance. Mad old Keziah Black has her own ideas on how to deal with Clarence — and for taking revenge for an ancient injustice. Keziah – now in her 70s and generally regarded as a deranged old witch with few social graces – is secretly manoeuvrings to take over the family business. And whether by blackmail or rigging games of poker, Keziah isn't going to let anything or anyone stand in her way. Down in the island's only town, impulsive ex-fisherman Arthur Judd has returned after a 15-year absence. Now, he's trying to introduce a dash of contemporary culture to this remote community with a new cafe offering everything from skinny lattes to breakfast muffins. Arthur's world is turned upside down twice: first when he suddenly finds himself looking after a baby daughter he never knew he had and again when the lovely but elusive Lola Maguire appears on the island. Most of the time, there's little contact — or love — lost between the Black Family and the rest of the islanders. However, trouble breaks out after Clarence Wherry's former assistant falls off a balcony, suffers a breakdown and runs off to live in the hills with a colony of white rabbits. After several years, the white rabbits have been doing what rabbits do best and Clarence decides to thin their numbers. The locals take umbrage at Clarence's high-handed behaviour and a plot is hatched to save the white rabbits.
Click here to get this book for FREE
° ° ° ° ° ° ° ° ° ° ° ° ° °