There is construction going on in the house next door that has been empty for over a year. It is time for me to channel my inner Mrs. Kravitz. "There's something going on over there. And I'm going to find out what it is."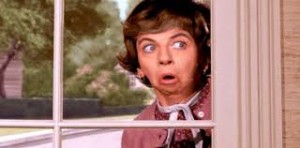 Keep the Ghost
Scott Kelly

(32 Reviews)
Genre: Mystery, Thriller & Suspense | Teen & Young Adult
FREE for a limited time
Kayla is about to commit pseudocide. She's met a couple of experts, and they've sold her on faking her death – wiping the slate clean, emerging a new person. But, she needs a witness. When Kayla begs, Sean gets roped in. I mean, nothing too serious: just lie about when he last saw her. Except, things fall apart in a hurry. The police don't see an accident, they see murder – and Sean is their suspect. She's vanished, and he's facing prison. His only hope is to chase Kayla's trail and reach out to the enigmatic strangers who make a life out of pretending to be dead. They call it enlightenment, but Sean calls it crazy. But at least they have a plan, even if the first step is to kill himself. Will Sean have the strength to take the plunge? And if he does, who will come out the other side?
Click here to get this book for FREE
° ° ° ° ° ° ° ° ° ° ° ° ° °
Lauren's Return: A Second Chance Firefighter Suspense (Return To Me Book 3)
Anne L. Parks

(18 Reviews)
Genre: Family Life | Sagas
FREE for a limited time
Eve has it all. Deeply in love, she has put her past behind her and embarked on a new career, a new home and a new life with Jake. Jake finally accepts he can have it all: the love of his life, a future filled with happiness and a woman he trusts with his heart and soul by his side. The only thing he is missing is his thirteen-year-old daughter, Lauren. But some things are just not meant to be. When Jake's ex-wife, Monique, feels threatened – she strikes out – and her deadly venom falls on the one person Jake cannot live without. Jake and Eve are once again in a fight to save their love. But is it enough? Sacrifices must be made, and hearts will be broke, when Lauren returns.
Click here to get this book for FREE
° ° ° ° ° ° ° ° ° ° ° ° ° °
Memoirs of a Distressed Doctor
Ivan Presley


(25 Reviews)
Genre: Teen & Young Adult | Biographies & Memoirs | Parenting & Relationships
FREE for a limited time
These Memoirs capture the most difficult three years of my life. I was a doctor practicing on my own for the first time after residency, a husband, and also a father for the first time. Amidst these challenges, few poor decisions I make propel my family down a dark and uncertain path. My son is challenged with his own battles that he must face at only one. My wife could not understand why I made those mistakes. These are the stories of a struggling family, a struggling father, a struggling husband, and of a struggling doctor who is trying to keep things together. I had to find ways out of these troubled waters to help my family survive. They are the stories of hope, of courage, of perseverance, and of what it sometimes took to correct the mistakes I had once made. Amidst these troubles I grapple with God to make sense of what has befallen on me. The better days are coming… I can see them in the horizon… But for those three years I must kneel and take those blows one hard hit at a time!
Click here to get this book for FREE
° ° ° ° ° ° ° ° ° ° ° ° ° °
Anstractor (The New Phase Book 1)
Greg Dragon


(19 Reviews)
Genre: Science Fiction
FREE for a limited time
Remember when? Commander Rafian VCA the most gifted Space Marine in the Anstractor Alliance remembers nothing. Waking up with no recollection of his life before becoming a Jumper recruit, he falls in love, joins a rebellion, and focuses his efforts on overthrowing a government. But as his memory slowly returns, he recalls his original mission. Rafian now has a new goal: find his way home, make things right with the love of his life, and avenge the aliens who invaded his planet. But first, the Jumpers must pay, pay for ruining his life.
Click here to get this book for FREE
° ° ° ° ° ° ° ° ° ° ° ° ° °
The Little Pink eBook of (mostly) Cancer Cartoons
Kate Matthews


(14 Reviews)
Genre: Medical eBooks | Health, Fitness & Dieting | Comics & Graphic Novels | Humor & Entertainment
FREE for a limited time
An eBook of witty and ironic cartoons for breast cancer patients and survivors. Got breast cancer? Fight back with humor! The Little Pink eBook of (mostly) Cancer Cartoons is a collection of amusing cartoons that make breast cancer patients gasp in recognition and then shriek with laughter. This candid and clever look at a journey no one wants to take helps patients and their families cope through laughter. This edition of the book is in color and reads best on Kindle Fire or with one of the many FREE Kindle Reading Apps for smartphones, macs and PC's. It appears in black and white on the older kindles.
Click here to get this book for FREE
° ° ° ° ° ° ° ° ° ° ° ° ° °