I honestly don't think the fact that I dumped all the candy into a filthy gross trashcan will completely deter me from reaching in and grabbing a few pieces back out.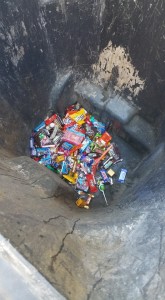 Lana'i of the Tiger (Islands of Aloha Mystery Series Book 3)
JoAnn Bassett


(421 Reviews)
Genre: Travel | Mystery
FREE for a limited time
In mid-November, Maui wedding planner Pali Moon is hustled into witness protection after sticking her nose in a hush-hush federal sting operation aimed at taking down a vicious drug lord. She's sent to the private island of Lana'i, Hawaii, to hang out while the feds finish up. After a month she's bored, homesick and WITSEC's worst nightmare until she lands a job tending a cozy B & B in Lana'i City. Movie mogul Tyler Benson checks in and he decides on a whim to marry his long-time girlfriend on Lana'i — far from the stalking paparazzi. But before long, the bushes are rustling with reporters and photogs hoping to get a scoop on the wedding or a candid photo of the reclusive celeb. Then a body is found in Tyler's fiancée's suite and the tabloids shout, amen! Who needs a ho-hum wedding when you can have a star-studded murder? "Living on the dole isn't all it's cracked up to be, and neither is living on the lam."
Click here to get this book for FREE
° ° ° ° ° ° ° ° ° ° ° ° ° °
I Want it Now! A Memoir of Life on the Set of Willy Wonka and the Chocolate Factory
Michael Esslinger


(220 Reviews)
Genre: Biographies & Memoirs
FREE for a limited time
In 1970, Julie Dawn Cole was cast as the unforgettable Veruca Salt in the classic motion picture Willy Wonka and the Chocolate Factory with Gene Wilder. Since its release in 1971, this epic musical has endured as a favorite of children from around the world with a fan base that encompasses generations of movie goers. With its unforgettable characters, chocolaty landscapes and everlasting music, this charming fairy-tale mixes these ingredients into what has been become a cinematic classic from literary legend Roald Dahl. Praised by critics worldwide and often featured in broadcasts with other masterpiece musicals, it remains a timeless treasure. Acclaimed film critic Robert Ebert wrote: "Willy Wonka and the Chocolate Factory is probably the best film of its sort since The Wizard of Oz. It is everything that family movies usually claim to be, but aren't: Delightful, funny, scary, exciting, and, most of all, a genuine work of imagination." Julie Dawn Cole has written an enchanting and richly illustrated memoir that offers a rare look behind the stage curtain to this ageless film. Splendidly illustrated with personal letters, never-seen-before photographs and documents; her mesmerizing story chronicles the entire production experience and tells of the remarkable journey of how she became known worldwide as a really bad egg. Filled with countless funny and touching memories, her story takes readers behind-the-scenes of Willy Wonka and the resulting coming of age journey that brought the cast together again after nearly a quarter century. I Want it Now takes readers beyond the world of pure imagination and behind the scenes to this universally cherished motion picture. A true-to-life Charlie Bucket tale, Julie's story is unforgettable…
Click here to get this book for FREE
° ° ° ° ° ° ° ° ° ° ° ° ° °
The Ruins of Mars (The Ruins of Mars Trilogy Book 1)
Dylan James Quarles


(135 Reviews)
Genre: Action & Adventure | Science Fiction
FREE for a limited time
Set against the turbulent backdrop of the near future, The Ruins of Mars opens on the discovery of an ancient city buried under the sands of the red planet. Images captured by twin sentient satellites show massive domes, imposing walls, and a grid work of buildings situated directly on the rim of Mars' Grand Canyon, the Valles Marineris. With the resources of Earth draining away under the weight of human expansion, a plan is hatched to reclaim Mars from the cold grasp of death. A small band of explorers, astronauts, and scientists are sent to the red world in mankind's first interplanetary starship to begin construction on a human colony. Among them is a young archaeologist, named Harrison Raheem Assad, who is tasked with uncovering the secrets of the Martian ruins and their relation to the human race. Aided by the nearly boundless mind of a god-like artificial intelligence; the explorers battle space travel, harsh Martian weather, and the deepening mystery of the forgotten alien civilization. Begin the epic journey in Book One of the Ruins of Mars Trilogy.
Click here to get this book for FREE
° ° ° ° ° ° ° ° ° ° ° ° ° °
Hope For Christmas (Noel, Montana Book 1)
Jennifer Hayden


(82 Reviews)
Genre: Romance
FREE for a limited time
Welcome to Noel, Montana, where it's Christmas 365 days a year! The idea of a town that celebrates Christmas 365 days a year is lost on Hope Tavener… until she finds herself in the small town of Noel, Montana. Intending to spend only a day or two tying up the loose ends of her recently deceased grandmother's will, Hope has no idea what is in store for her. Eccentric townspeople, a mother with an agenda and more Christmas "spirit" than she can handle soon make her visit to Noel far more interesting than she ever expected. As if she doesn't have enough problems, she finds herself falling for the town's gorgeous mayor. Tucker Reed is not her type… or is he? Before long, Hope finds herself in a battle to save not only her grandmother's beloved bakery, but also her heart.
Click here to get this book for FREE
° ° ° ° ° ° ° ° ° ° ° ° ° °
Rebecca of Sunnybrook Farm
Kate Douglas Wiggin

(153 Reviews)
Genre: Children's eBooks
FREE for a limited time
Step through the golden gates of childhood in Kate Douglas Wiggin's classic, Rebecca of Sunnybrook Farm Eleven-year-old Rebecca is leaving Sunnybrook Farm to live with her spinster aunts and become the educated daughter her family needs. Her aunts resent her father, who left behind nothing for his wife and seven children but a forty-eight-dollar mortgage. When Rebecca climbs out of the stagecoach with her pink parasol, wide-eyed and nervous about her new life, she is quickly met with the strict rules of Aunt Miranda, who has no patience for the antics of a rambunctious child. With her winning nature and lively demeanor, Rebecca becomes the young woman no one expected her to be. This ebook has been professionally proofread to ensure accuracy and readability on all devices.
Click here to get this book for FREE
° ° ° ° ° ° ° ° ° ° ° ° ° °