I was doing a little Thanksgiving shopping and found this little guy. He just cracks me up. I am pretty sure he only cooks vegetarian meals.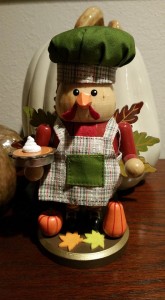 A Dead Red Oleander (The Dead Red Mystery Series, Book 3)
RP Dahlke


(644 Reviews)
Genre: Mystery
FREE for a limited time
When a late in the season emergency forces Lalla Bains to accept a greenhorn pilot for her dad's aero ag business, she sighs in relief . After all, he comes highly recommended, his physical is spotless, and with a name like Dewey Treat, what could possibly go wrong? Then her quirky relatives arrive from Texas and things go south in a hurry: Dewey Treat drops dead, his tearful widow clobbers Sherriff Caleb Stone with his own gun, and makes a run for it. Lalla, convinced the widow is innocent, sets out to prove it, only to realize her dead pilot lied about everything, including a vicious Las Vegas hitman intent on wiping out all the witnesses to his crime. Feds, local law, suspicious ag-pilots, nutso relatives, and her daddy's new sidekick, Bruce the goat, make life a living hell for Lalla. Will her nosey nature solve the crime and save the day? Or put them all in mortal danger?
Click here to get this book for FREE
° ° ° ° ° ° ° ° ° ° ° ° ° °
Rebel (Rebel Wheels Book 1)
Elle Casey

(366 Reviews)
Genre: Romance | Women's Fiction | Coming of Age
FREE for a limited time
NEW YORK TIMES and USA TODAY BESTSELLING AUTHOR, ELLE CASEY brings readers Book 1 of 3 in the New Adult Romance Series, REBEL WHEELS.
Teagan Cross, college senior, rebel, and wiseass extraordinaire, goes from princess to pauper in a single phone call. Overnight, her life of privilege becomes one of survival, and no matter where she turns, it seems like the world is out to get her. She's not going to fall apart, though. She's a rebel and she's strong… determined to live life on her own terms… and nothing's going to stop her from getting things done and making things right. But when a twist of fate brings her to the doorstep of a different kind of Rebel, she's forced to figure out when something's worth fighting for and when something's worth letting go.
Content Warning: Contains sexy adult situations, creative foul language, and some mild violence. May not be appropriate for younger readers.
Click here to get this book for FREE
° ° ° ° ° ° ° ° ° ° ° ° ° °
Regarding Anna
Florence Osmund


(304 Reviews)
Genre: Contemporary Fiction | Women's Fiction | Literary Fiction
FREE for a limited time
Things that happen to you in the past can mold you into someone you're not. After recovering from the shock of her parents perishing in a tragic accident, Grace Lindroth discovers clues in their attic that cause her to believe the people she called Mom and Dad her whole life may not have been her real parents. In her search for the truth, Grace encounters people whose actions cause her to be distrustful of just about everyone, making her mission that much more difficult but heightening her determination to uncover what she believes is essential for her to go on with her life.
Click here to get this book for FREE
° ° ° ° ° ° ° ° ° ° ° ° ° °
A Demon Made Me Do It (Demonblood Book 1)
Penelope King


(170 Reviews)
Genre: Teen & Young Adult | Horror
FREE for a limited time
Seventeen-year-old Liora Greyson has never been a "normal" girl. Born of a demon father and a human mother, she's what's known in the underworlds as a "demion". Liora just wants to survive her senior year of high school without anyone finding out her dark secret. But the walls she's carefully constructed to keep people away crack wide open once she meets the sexy and mysterious Kieron Ambrose.The more she falls for him, the more worried she becomes. She can't let him know she transforms into demon named 'Lucky' at dusk… a demon with an entirely separate personality who spends her nights drinking, tormenting humans, slaying unsuspecting demons, and lusting after her gorgeous and unattainable incubus/hellhound BFF. But it turns out Kieron has a few dark secrets of his own. Secrets that will either save Liora… or totally destroy her. Fighting your demons is one thing. Having one who fights back, messes with your guy, and leaves you with nasty hangovers is total hell. YA Paranormal Romance/fantasy approx.
Appropriate for mature teens and adults (some content may not be suitable for younger readers).
Click here to get this book for FREE
° ° ° ° ° ° ° ° ° ° ° ° ° °
Knitting: Amazing Patterns that Everyone Can Knit
Kathy Wilston

(43 Reviews)
Genre: Crafts, Hobbies & Home
FREE for a limited time
Countless Amazing Patterns to Knit. I have collected some of my favorite knitting patterns for your enjoyment. All of these patterns can be found online for free, and where possible I have given credit to the original designer. None of these patterns is my own, and I do not claim any as my own. Knitting is a wonderful craft to learn, and in this book we'll explore some easy and intermediate patterns. We'll also spend a bit of time refreshing your skills, or if you're a beginner learning basic stitches and techniques. Once you're finished with this book I hope you'll be ready to move onto to more challenging and advanced patterns. I feel part of the fun of knitting is creating something with your hands that is unique and one of a kind. So feel free to put your own spin on the patterns which follow. If you don't like the colors listed, use your own. If you want to change the gauge of a pattern simply move up or down a needle size.
Click here to get this book for FREE
° ° ° ° ° ° ° ° ° ° ° ° ° °