Every time Henry looks at me, I am waiting for him to ask me a question. His head will never be straight, but as long as I keep the carrots and lettuce coming, he doesn't mind.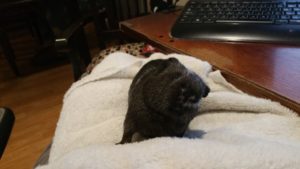 Schooled in Deception: A Michael Bishop Mystery
by Anthony J. Pucci


(5 Reviews)
Genre: Mystery | Thrillers
FREE for a limited time
The life of veteran English teacher Michael Bishop takes an unexpected turn when one of his students opens a trap door in the auditorium stage and discovers the body of a recently hired maintenance man. Bishop determines that what appears to be an accident is nothing short of coldblooded murder. Very little is known about the victim. Who could have wanted to kill him and why? In the dead man's wallet is a piece of paper with "Avignon 1868" written on it. Is that the key to solving the mystery or is it a meaningless distraction? As Bishop searches for answers, Holy Trinity High School is rocked by a financial crisis. Two administrators, the autocratic Sister Ann and the venomous Sister Pat, plan to dismiss teachers as a cost-saving measure, and Bishop's name is at the top of the list. The end of the school year is quickly approaching. Will Bishop be able to see through the masks that people wear to identify the killer and save his job at the same time?
Click here to get this book for FREE
° ° ° ° ° ° ° ° ° ° ° ° ° °
Butterfly Garden: A Sensual Amish Historical Romance
by Annette Blair


(513 Reviews)
Genre: Romance | Religion & Spirituality | Religious & Inspirational Fiction
FREE for a limited time
Butterfly Garden, A Sensual Amish Historical Romance
Amish woman Sara Lapp, all but shunned for studying with the English doctor to become a midwife, is shocked that, after months of waiting, her first call to tend a birth comes from self-appointed outcast Mad Adam Zuckerman. For his wife's sake, Sara boldly tells Adam that he is killing Abby with so many babies so close, but Abby is already dead.
Adam did not call Sara to tend the birth, but to give her his children. Though Sara knows Abby's girls belong with their father, how can she leave them with a man who seems not to care for them? As much as she loves and wants the girls, she decides that she will only take them long enough to teach Adam to love them.
As a child Adam heard the words, "I do this because I love you," with his father's every abuse. Adam is afraid to love his children, afraid that in doing so, he will hurt them. Without Abby to protect them, Adam must find someone else, and he can think of only one woman strong and brave enough, Spinster Sara Lapp.
Click here to get this book for FREE
° ° ° ° ° ° ° ° ° ° ° ° ° °
Gunfight at Spanish Wells: Bloodshed for the Bounty Hunter (The Bounty Hunter Western Series Book 6)
by Jeff Breland, Bruce G. Bennett


(3 Reviews)
Genre: Westerns | Romance | Classics
FREE for a limited time
First it was a "Bad Day For The Hangman," now there's a "Gunfight At Spanish Wells," and this gunfight is going to see many die, many live and one legend born.
Jake Barns, former outlaw and gunslinger, has just been broken out of jail where he is charged with the murder of three railroad detectives and a deputy sheriff. That doesn't include being the number one suspect in a train robbery where three members of the crew are killed. Disregarding the supposition of honor among thieves, Jake gives two of his cohorts the ultimatum of breaking him out or going to the gallows with him.
Having no desire for a date with the hangman, it's an easy choice for them, but not long after, one of the jail breakers finds himself in a similar situation. Rather than allow himself to be arrested, he shoots federal deputy marshal Jake Stone and the sheriff. Moments later as a wanted man, he is following Jake's path to Mexico. Mexico is usually a safe haven in the old west, but that's not always the case.
Even in Mexico there are those would will attempt to collect the bounty on the two wanted men. Their attempts at gunfighter justice, like the attempts north of the border, will be answered with bullets. Despite living the good life south of the border, circumstances will change and require them to return for the stolen gold. It's not going to be as easy as they might think. Ride along with one of the most exciting Western adventures of 2016.
Click here to get this book for FREE
° ° ° ° ° ° ° ° ° ° ° ° ° °
The Dragon (Sons of Camelot Book 3)
by Kim Dragoner


(2 Reviews)
Genre: Fantasy | Historical Fiction
FREE for a limited time
History begets legends. Swords versus sorcery. Mortals cross paths with faeries… and other magical creatures.
In The Dragon, John of Dumnonia visits his cousin, Rhys, and learns of the House of the Dragon. With renewed purpose, John sets out to seek the legendary Dragon's Spire.
John has his quest, but Owain has a mission, too. A chieftain with dangerous secrets, Owain leads his force of Silurian rebels against the Romans. However, when they're betrayed, an ambush results. Owain retreats with the survivors, but now, there's a price on his head. A Roman price. In gold.
As the Romans scour the occupied countryside for Owain, he meets Arthes, a beautiful maiden with extraordinary powers. But when the Romans start killing and burning – and take a hostage – Owain the outlaw must come out of hiding to fight the Legionnaires.
Can Owain summon the courage – and rally the swords he needs – to rescue an innocent girl, take back the country from the Romans and free the Silurians? Will John find the Dragon's Spire in time?
THE DRAGON by Kim Dragoner is the third novel in the Sons of Camelot Series, an epic medieval adventure of knights, wizards, and legends – it's a tapestry of sorcery, sword fights, and Arthurian legends.
Click here to get this book for FREE
° ° ° ° ° ° ° ° ° ° ° ° ° °
56 DASH Main Courses
by Alisha Morgan
Genre: Cookbooks, Food & Wine
FREE for a limited time
In a nutshell, this book contains 56 dash Main Course recipes. Detailed nutritional information is provided at the end of every recipe. If you are looking to reduce your blood pressure, these delicious and healthy recipes are a must have!!.
The DASH diet has earned its place among the top healthiest diets today. it is a very practical diet that promotes overall health and wellness.
The DASH diet was intended to reduce blood pressure, one of the primary causes of heart disease. However, lowering blood pressure is just an added bonus. The DASH diet has been found to be much more nutritious overall as compared to the standard American diet.
The DASH diet was recently named the best and healthiest diet by nutrition experts at US News and World Report. DASH stands for Dietary Approaches to Stop Hypertension and it is designed as a life- long approach to treating or preventing hypertension (high blood pressure). It is frequently prescribed by doctors as a first step in dealing with pre-hypertension as a way of avoiding blood pressure medications.
The DASH diet focuses on lowering the amount of sodium in your diet and encouraging nutrient-rich foods such as fruits, vegetables, and whole grains. Research has revealed that by following the DASH diet you can lower your blood pressure by a surprising 12 points, which is pretty much the upper limit of most medicine available out there. Lowering blood pressure is just a bonus. The DASH diet also promotes one's overall health by:
Lowering risk of heart disease
Lowering risk of cancer
Lowering risk of diabetes
Lowering risk of stroke
Lowering cholesterol levels
Helping prevent osteoporosis
Helping promote weight loss
For these reasons, the DASH diet is a great choice for anyone looking to improve their health.
Click here to get this book for FREE
° ° ° ° ° ° ° ° ° ° ° ° ° °