The battle for space on my lap is a nightly occurrence. It is very odd to me that a dog can fit so nicely on my lap, but I find it even odder that my cat is three times her size and works hard every night to find his spot as well. I might need to do right by both of them and eat more cake so I will have more lap for them to sit on.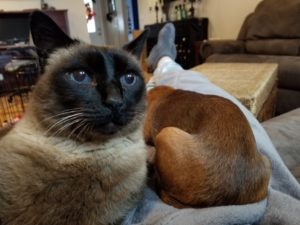 LAUNDRY MAN (The Jack Shepherd International Crime Novels Book 1)
by Jake Needham


(262 Reviews)
Genre: Thrillers | Suspense
FREE for a limited time
Once a high-flying international lawyer, a member of the innermost circles of government power, Jack Shepherd has abandoned the savage politics of Washington for the lethargic backwater of Bangkok, where he is now just an unremarkable professor at an unimportant university in an insignificant city.
Or is he?
A secretive Asian bank collapses under dubious circumstances. A former law partner Shepherd thought dead reveals himself as the force behind the disgraced bank and coerces Shepherd into helping him track the hundreds of millions of dollars that disappeared in the collapse. A twisting trail of deceit leads Shepherd from Bangkok to Hong Kong and eventually to an isolated villa on the fabled island of Phuket where he confronts the evil at the heart of a monstrous game of international treachery.
A lawyer among people who laugh at the law, a friend in a land where today's allies are tomorrow's fugitives, Jack Shepherd battles the global tide of corruption, extortion and murder that is fast engulfing the new life he has made for himself in Thailand.
Click here to get this book for FREE
° ° ° ° ° ° ° ° ° ° ° ° ° °
Sweetened With a Kiss (Self Made Men…Southern Style Book 1)
by Lexxi Callahan, Sarah Lyons


(136 Reviews)
Genre: Romance
FREE for a limited time
Stefan Sellers should not be in love with his best friend's little sister Jen Taylor. Especially when his own parents raised her after her brother and parents died. Tell that to his heart. Though she accepts his proposal, she breaks it off and escapes to Paris, leaving him devastated. But she's finally back in New Orleans and Stefan will do anything to get her back.
Jen has always loved Stefan but she's sick of being treated like a little girl. Attending pastry school in Paris was the best decision she's ever made. She's a woman now, and she knows what she wants — passion not pity. Stefan needs to man up if she's going to agree to marry him. But soon she learns the best way to get Stephan to agree to her demands is to sweeten them with a kiss.
Click here to get this book for FREE
° ° ° ° ° ° ° ° ° ° ° ° ° °
THE TIME STORE: A real time travel page turner with relatable characters and no SciFi Mumbo-Jumbo! Just good old fashioned time travel!
by Andrew Clark, Dee Matthews


(103 Reviews)
Genre: Science Fiction | Crime Fiction | Teen & Young Adult
FREE for a limited time
RULE NUMBER ONE OF TIME TRAVEL, PRESERVE TRUE TIME.
Greenwich, London. A borough steeped in history. Home of the Royal Observatory, Cutty Sark, Old Royal Naval College and the PRIME MERIDIAN. Also home to the Bradbeers, a family of Time Travellers.
If you're lucky, the Bradbeers will help you live your dreams or recapture lost time. Walk with dinosaurs or presidents, become a Wild West cowboy or a Roman legionnaire, resolve your past or lay your ghosts to rest.
Tragedy-ridden John Brewer is given the chance to put his life back on the road to recovery – to venture back in time and bury
his nightmares. But when he gives his dying wife a kiss goodbye he is not to know that he'll rip apart the very fabric of his own
true time… and also that of Dan Bradbeer.
Many will meet the Bradbeers as they search for answers. But for those who dare to cross them, rule number one will not apply.
Click here to get this book for FREE
° ° ° ° ° ° ° ° ° ° ° ° ° °
Hired Gun
by W.R. Benton


(11 Reviews)
Genre: Westerns | Action & Adventure
FREE for a limited time
The Newest Western from the Author of 'Jake Masters, Bounty Hunter'
The dusty mining town of Bannack, Montana harbors a fierce rivalry, two businessmen will do anything for advantage over their competition… even if it means murder. Myles Sams is a hired killer, not young any more but wise enough to stay alive, even if that means shooting first. When Myles' services are acquired to streamline Bannack's current business community, he soon realizes he's gunning for the wrong side. With a mini war brewing, Myles defects, offering his six guns to his former target side.
But all is not what it seems, additional unseen forces are at work, quietly ripping the small town apart at the seams. When crooked vigilantes get wind of Myles' plan to set things right, all hell's gonna break loose.
Brutal and action-packed – another gripping western from W.R. Benton.
Click here to get this book for FREE
° ° ° ° ° ° ° ° ° ° ° ° ° °
The Horse That Haunts My Heart
by Deborah Smith Parker


(48 Reviews)
Genre: Crafts, Hobbies & Home | Teen & Young Adult | Biographies & Memoirs
FREE for a limited time
Set against the backdrop of the Rocky Mountains, Deborah Smith Parker's coming of age memoir takes place in the 1950s during three transformative summers she spent on a horse ranch. As a young girl growing up in the Midwest, she longed for the life of a cowboy. At age 13 her parents allowed her to go west to live her dream where she met her first love — a horse nick-named Tank. She spent her summers riding, wrangling, and sleeping out under the stars while her extraordinary relationship with Tank developed, shaped by the poignancy, hilarity and drama that tested relationships undergo. Like the rugged mountains in which these events took place, this story has rapidly shifting light and shadow which Parker artfully leads the reader through with humor and well-wrought descriptions of vivid pictures of life on the ranch — daily chores, risky antics and real peril, coping with dirt and dangers on the trail, and learning the language of horses, her horse in particular.
Click here to get this book for FREE
° ° ° ° ° ° ° ° ° ° ° ° ° °