I have a huge wall of this in my front yard. The scent is incredible, and I love it. Unfortunately it is ABSOLUTE HECK for a few of my friends with allergies. Sometimes the garden is a cruel beast. Sorry friends.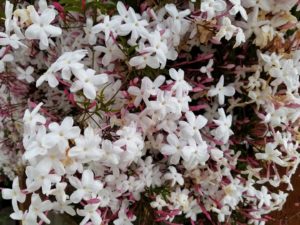 Hidden Agemda (Kate Diamond Adventure Series Book 1)
by Leighann Dobbs


(187 Reviews)
Genre: Action & Adventure | Literature & Fiction
FREE for a limited time
The Millenia Ruby is stolen from the Ritzholdt Museum and insurance investigator Kate Diamond will stop at nothing to retrieve it… even if it means getting shot at, impersonating an FBI agent and tangling with a live volcano.
Enlisting the aid of her retired jewel thief parents and their band of thieves, safecrackers and con men from the Golden Capers retirement village, Kate arms herself with a variety of gadgets and disguises to follow a trail of clues from icy Antarctica to a desolate tropical island. But she soon finds that what started off as an easy job may end with a deadly twist.
Why is someone going to so much trouble to keep possession of the ruby? And what, exactly, does Kate's ex-partner, FBI agent Ace Mason, have up his sleeve? Is he really trying to keep her safe as he suggests, or is he simply trying to find the ruby first and take all the credit?
By the time Kate realizes things are not as they seem, she may be in too deep. Will she discover the real hidden agenda behind the theft of the gem before it's too late?
Click here to get this book for FREE
° ° ° ° ° ° ° ° ° ° ° ° ° °
A Quest of Undoing (Tales from the Land of Ononokin Book 1)
by Christopher P. Young, John P. Logsdon


(111 Reviews)
Genre: Fantasy | Literature & Fiction | Humor & Entertainment
FREE for a limited time
A drunk wizard. A lizard starting a nudie magazine. A former apprentice seeking revenge.
After hundreds of years of wizardry, Master Whizzfiddle wants nothing more than to sit back and relax for the rest of his cursedly long life. His vindictive ex-apprentice has other plans. With a legal challenge out for his cushy guild membership, Whizzfiddle has 30 days to undertake a near impossible quest…
To get the eternal rest he craves, the lazy wizard must travel with a band of creatures cursed to live out their worst qualities. Returning the ugly elf, the huge dwarf, and the terrified knight to their former glory will take courage. It'll take perseverance. And for Whizzfiddle's magic to keep him from a lifetime of hard labor, it'll take a whole lot of booze…
A Quest of Undoing is the enchanting first book in the Ononokin comedic fantasy series. If you like absurd humor, original characters, and seeing fantasy tropes turned upside down, then you'll love John P. Logsdon and Christopher P. Young's epically zany tale.
Fans of Terry Pratchett, Robert Asprin, Piers Anthony, Discworld, Xanth, Myth Adventures, and/or Monty Python will have a blast with the hilarious Ononokin series.
Buy A Quest of Undoing to chug the madcap adventure today!
Click here to get this book for FREE
° ° ° ° ° ° ° ° ° ° ° ° ° °
The Haunting of Sam Cabot: A terrifying haunted house mystery.
by Mark Edward Hall


(108 Reviews)
Genre: Literature & Fiction | Horror | Classics
FREE for a limited time
"A cross between The Shining and The Amityville Horror"
There are places that hold evil, houses so vile, so tainted, that people refuse to live in them. Farnham House is one of those places.
Once an inn, this majestic old New England manor house is back on the market, and the price is very reasonable.
Sam Cabot is a man tired of moving. Now he wants nothing more than to live a quiet life in the country with his wife and young son. Little does he know that he will soon begin a long, slow descent into madness and that he will spend his summer living with dead things.
The Kindle version of this book contains bonus material
Click here to get this book for FREE
° ° ° ° ° ° ° ° ° ° ° ° ° °
Mail Order Bride – Montana Hearts: Historical Cowboy Mystery Romance Novel (Echo Canyon Brides Book 6)
by Linda Bridey


(67 Reviews)
Genre: Literature & Fiction | United States | Mystery
FREE for a limited time
Cheyenne brave, Wild Wind, discovers that Roxie Ryder has been harboring feelings for him for a long time. Amid danger and mystery, their love grows, but can they survive outside influences that threaten to drive a wedge between them?
Click here to get this book for FREE
° ° ° ° ° ° ° ° ° ° ° ° ° °
Minimalist Budget: The Simple Approach to Saving and Spending
by A.C. Drexel


(46 Reviews)
Genre: Business & Money | Crafts, Hobbies & Home
FREE for a limited time
Are you living paycheck to paycheck – with no savings to the side?
How often do you get a headache thinking about money – and can't set even the simplest of budgets?
Do you often feel like money is controlling you – instead of the other way around?
In theory, budgeting is a simple task:
You don't spend more than what you earn – especially not on things you don't really need.
But in practice…
… things have a tendency to work a bit differently.
Chances are, you end up mindlessly buying stuff – even though you know you'll feel guilty afterward.
If that sounds like you, you're not alone – millions of adults struggle – and fail! – to tame their spending habits.
Money is a tool you should use to improve your life – not make it worse. And that is where you may benefit from getting yourself a copy of Minimalist Budget: The Simple Approach to Saving and Spending!
Here's what you will learn from this book:
– Why having and sticking to a budget matters – learn how to create a sustainable budget for yourself & track every single dollar you spend!
– The difference between fixed & flexible expenses – you get to determine what's the best way for you to save money on!
– How to tell whether you really need or really want something – say goodbye to impulse spending & the instant gratification factor that puts you into debt!
– Simple & effective ways to manage your budget – pick the one that suits you the best without feeling stressed out!
– The rules & misconceptions of minimalism – or better yet, how to make minimalism work for you, not the other way around!
– How to budget and spend like a true minimalist – and no, you won't have to give up on your most valuable possessions!
– Become more responsible for the way you spend your money – you might not even be aware you have some bad spending habits!
Here's a catch not many understand:
Living on a budget doesn't mean you don't get to spend on anything.
Living on a budget means you get to be smart about the way you spend your hard-earned money – so you add some real value to the things you own.
Never again blow through your paycheck without even being aware of the money you've spent.
Download Minimalist Budget: The Simple Approach to Saving and Spending today and get back in control over your finances!
BONUS: Get Complete Concentration – The Guide to Staying Focused and Fulfilling Your Dreams completely free.
Click here to get this book for FREE
° ° ° ° ° ° ° ° ° ° ° ° ° °