My first attempt to cook butternut squash was an amazing success, and I am fired up to try more. Last nights recipe was cubed butternut squash and diced red onion mixed together in a large bowl with olive oil and course salt. I then baked it for 50 minutes at 375, flipping it halfway through and adding fresh grated parmesan for the last 10 minutes. It was AMAZING and DELICIOUS!!! I was also thrilled that the baby bassets not only ate it, but asked for seconds. I WIN!!! Tonight I am going to try roasting acorn squash with Italian sausage. Your suggestions were fantastic and I am loving it. It is feeling and tasting like Fall. Thank you so much!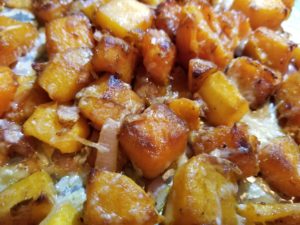 Third Daughter (The Royals of Dharia, Book One)
by Susan Kaye Quinn


(661 Reviews)
Genre: Romance
FREE for a limited time
Sneaking out of the palace wasn't one of Aniri's best ideas. But she's the Third Daughter of the Queen of Dharia — zero responsibilities and zero royal duties. She's just the backup daughter, in case her older sisters' arranged marriages — to take the crown or broker an alliance — don't quite work out. But once Aniri reaches her 18th birthday, she'll be truly free… and then she can marry the charming fencing instructor she meets for fevered kisses in the forest.
But then the impossible happens — a marriage proposal. From a barbarian prince in the north, no less. And if Aniri refuses, the threat of their new flying weapon might bring war.
So she agrees to the young prince's proposal, but only as a subterfuge to spy on him, find the weapon, and hopefully avoid both war and an arranged marriage to a man she doesn't love. But once she arrives in the sweeping mountains of the north, she discovers the prince has his own secrets… and saving her country may end up breaking her heart.
This Bollywood-style royal romance takes you to an alternate East Indian world filled with skyships, saber duels, and lots of royal intrigue.
THIRD DAUGHTER is the first book in the Royals of Dharia trilogy.
Click here to get this book for FREE
° ° ° ° ° ° ° ° ° ° ° ° ° °
Back From Berlin: A Historical Novel
by Yossi Uzrad

(29 Reviews)
Genre: World Literature | Literature & Fiction | Historical Fiction
FREE for a limited time
You may leave home.
But home will never leave you.
Uri Dolev is a shy young man brought up in a strict, spartan educational system. Born in Germany, his parents, who managed to save themselves from the horrors of the Holocaust, are cold individuals who display few emotions.
A moment before being drafted into the military, Uri's heart is in for a huge disappointment, when Nurit, his great love since adolescence, leaves unexpectedly and moves to Sweden.
Uri tries to leave everything behind when he joins the army, rising to become a valued combat officer.
However, a major case of espionage shakes his life to the core and sends him on a journey of soul-searching, to the exact place where his family experienced the most terrible of all tragedies.
Click here to get this book for FREE
° ° ° ° ° ° ° ° ° ° ° ° ° °
Albion Lost (The Exiled Fleet Book 1)
by Richard Fox


(163 Reviews)
Genre: Science Fiction | Science Fiction & Fantasy
FREE for a limited time
For centuries, the Daegon waited. They plotted. And now they are ready to strike.
The core worlds of settled space enjoy a tenuous peace, unaware and ill prepared for the threat building beyond the furthest reaches of humanity. The star kingdom of Albion stands as a shining light of justice and mercy in a harsh galaxy, and they will be the first to suffer the Daegon's fury.
Defying his low born status, and despite his self-doubt, Commodore Thomas Gage has risen through the ranks by sheer grit and determination, defending Albion from brutal pirate clans.
And when the onslaught comes, Gage and his fleet may be Albion's last hope for freedom.
A new military science-fiction series for fans of Honor Harrington, Earth Alone and Old Man's War from the author of the best-selling Ember War Saga.
Click here to get this book for FREE
° ° ° ° ° ° ° ° ° ° ° ° ° °
Chicken Culprit (A Backyard Farming Mystery Book 1)
by Vikki Walton


(133 Reviews)
Genre: Mystery | Mystery, Thriller & Suspense
FREE for a limited time
A light-hearted cozy mystery that will touch your heart and your funny-bone.
When Anne Fremont discovers her neighbor dead in his compost pile, she's thrust into the role of amateur detective. Who had the most to gain from the death and is Anne next on the list?
Anne seeks to put her past behind her and moves to Carolan Springs, Colorado where she's excited about fixing up the old Victorian she's bought. But when her young neighbor, Kandi, begs for her help to clear her as a suspect in a neighbor's death, Anne finds she can't say no to the ditsy, young woman. As the suspect list grows, Anne is determined to clear Kandi's name.
This is the first book in the Backyard Farming series by Vikki Walton. Each book in the series has a backyard farming or suburban homestead theme and Chicken Culprit is about chickens and eggs, along with the theme of forgiveness.
Click here to get this book for FREE
° ° ° ° ° ° ° ° ° ° ° ° ° °
The Omen Tree
by Fredrick Niles


(1 Review)
Genre: Action & Adventure | Literature & Fiction | Horror
FREE for a limited time
A sleepy town.
A missing person.
A strange figure lurking in the woods.
The small town of Poplar is a quiet, comfortable, and respectable place to raise children. The neighbors are decent and the seasons are beautiful. All is well until the night young Ian Whelan glimpses something moving around in his backyard. Then everything begins to change.
Lies are exposed, bodies are uncovered, and a well-hidden killer is finally dragged out into the light. Slowly, the stark reality of what's been going on in the gloomy woods and musty basements of Poplar is realized, and this revelation will leave a pile of bodies in its destructive wake.
From the author of Ash Above, Snow Below comes a poignant meditation on how we confront the monsters of our childhood. Equal parts grim and adventurous, The Omen Tree features a variety of adventurous outcasts and deviant rogues that will capture your heart one moment and darken it the next.
Click here to get this book for FREE
° ° ° ° ° ° ° ° ° ° ° ° ° °