A new adult holiday romance set in the university town of Missoula, Montana, Sweet Montana Christmas is sure to delight Christmas readers of all ages with its quirky characters and happy ending. Buy Sweet Montana Christmas today to enjoy romance steeped in snowy scenes and hot chocolate.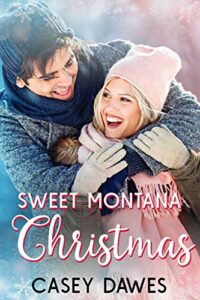 Sweet Montana Christmas: A New Adult Contemporary Christmas Romance
by Casey Dawes


(1 Review)
Genre: Holidays | Romance
She's building the best chocolate shop in Montana. He's looking for a career at a bigger airport. Can their attraction be more than a romantic fling?
Returning to Missoula, Montana after the Christmas holidays, Sue Anne Devereaux, owner of Sweets Montana, is dismayed to find her car is no longer in long term parking. The airport's public safety officer, Zach Crippen is no help at all as they search the snowy lots. But when he kisses her unexpectedly, the lost car no longer matters.
After college, Sue Anne invested her father's trust fund in a chocolate shop, which she intends to make the best in the state, if not the world. She enjoyed the kiss, but Zach is a Montana short-termer, and she's not interested in anything less than the possibility of true love.
Zach Crippen is stuck as a security guard at Missoula's tiny airport because of a mistake he made earlier in his career. He's concentrating on regaining his standing in the airport industry at a big hub somewhere else in the country. A casual fling — no strings attached — would be fine with him, but the quirky woman who makes the best chocolate he's ever tasted deserves more than casual romance.
Will Sue Anne accept a sip of sweetness during the holiday season, or hold out for the real thing?
Click here to get this book for $0.99
° ° ° ° ° ° ° ° ° ° ° ° ° °