We have decided together to separate temporarily. It is for the best. I ignored the signs that there was trouble, and he finally snapped. Actually it was less of a snap and more of a mush mush. He kept telling me to stop watering him, but all I heard was MORE WATER PLEASE! It was my mother in law that pointed out to me that my little house plant that I have been calling a jerk for weeks now for losing leaves despite all the love and attention I have been giving him, was sitting in a puddle of water. They hate sitting in water. I know that over watering is bad, yet there I was drowning the poor guy. I got him out of the water and put him in the garage to hangout with the seedlings under a grow light. My hope is that I will forget about him for a while and stop watering him. Even now I feel compelled to water him, so it's best we spend some time apart. I really hope our time apart will be enough to save him.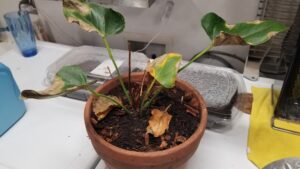 The Driver: A Suspense Thriller (A Reed & Billie Novel Book 8)
by Dustin Stevens

(1,151 Reviews)
Genre: Thrillers
FREE for a limited time
"I know you and I have been through some things," Reed whispered. "Some crazy, crazy stuff. But we have never – and will never – work a case as important as this one."
Eighteen months ago, Detective Reed Mattox didn't just lose his partner, the woman he met on his first day at the police academy and worked with for the entirety of his career thereafter. He lost his confidante. His sounding board. His support system.
His best friend.
Victim to a senseless shooting during a routine traffic stop, the details of that night are still as elusive to Reed as they were more than a year before. Months of scouring every detail, poring through every resource, have revealed nothing, heightening the guilt he still carries for being more than two thousand miles away at the time.
When the phone rings late one evening, Reed hopes it is the brass within the Columbus Police Department calling to let him know he and his new K-9 partner Billie have been reinstated. That the administrative leave they were placed on in the wake of their last major case has been lifted, freeing them from the personal Hell they've been stuck in for the last couple of months.
What he hears instead is something much bigger, cleaving straight to his core, and perhaps finally allowing them to close a case nearly a year and a half in the making…
Click here to get this book for FREE
° ° ° ° ° ° ° ° ° ° ° ° ° °
Winter's End
by Clarissa Cartharn


(129 Reviews)
Genre: Holidays | Romance
FREE for a limited time
Sometimes it takes a third to mend two broken hearts
Tormented by the rumors plaguing her once loveless marriage, young widow Emma Winston escapes to Breakish in the Isle of Skye with her two children. But her hopes of a new beginning is shattered as she finds herself torn between the man she once loved, her brother-in-law Richard Winston and wealthy, handsome playboy, Chris Cameron who threatens to destroy everything she's accomplished if she doesn't accept his offer of a convenient marriage.
Will Emma finally learn to follow her heart?
Click here to get this book for FREE
° ° ° ° ° ° ° ° ° ° ° ° ° °
Breaking Gravity
by Mitty Walters, David Gatewood


(969 Reviews)
Genre: Literature & Fiction | Science & Math
FREE for a limited time
It was just a hoverboard. Nobody was supposed to die.
Dale Adams has worked hard to leave his troubled past behind for a brighter future at Emory University. But when he makes a discovery that will change humanity forever, avoiding the spotlight becomes the least of his concerns.
Small experiments have attracted big attention. And not all who notice want Dale to be successful. Or even alive.
As Dale's world collapses around him, his fate intertwines with that of a girl he hardly knows. Their only hope for survival is to disappear into Atlanta's seedy underbelly, the very place Dale has tried so hard to leave behind. Time is running out, but if they can survive long enough science will be rewritten by the most unlikely of authors.
Click here to get this book for FREE
° ° ° ° ° ° ° ° ° ° ° ° ° °
Break-In & Eggs: A Blue Haven Mystery (Blue Haven Cozy Mysteries Book 1)
by C.G. Foutz, Courtney Giardina


(13 Reviews)
Genre: Mystery
FREE for a limited time
Blue Haven, North Carolina is well-known for clear waters, sandy beaches, and culinary delight. The town's annual Quiche on the Beach Bake Off draws quite the crowd and it's a can't miss event for food critic Veronica Walker, writer of the popular local food blog, Kaffeinated Kitchen.
The excitement of the upcoming bake off comes to a halt when Veronica walks into the Savory Egg Cafe and finds the reigning Quiche on the Beach champion dead on the floor. She is thrust into the middle of a murder investigation and the suspect list is rising faster than a baking quiche. With this year's bake off fast approaching, Veronica is determined to find out who did it before the beloved annual contest is axed for good. That is, if the killer doesn't stick a fork in her first.
Click here to get this book for FREE
° ° ° ° ° ° ° ° ° ° ° ° ° °
THE MAN OF THE FOREST: A Wild West Adventure
by Zane Grey

(813 Reviews)
Genre: Westerns | Action & Adventure
FREE for a limited time
This eBook edition of "The Man of the Forest" has been formatted to the highest digital standards and adjusted for readability on all devices.
"At sunset hour the forest was still, lonely, sweet with tang of fir and spruce, blazing in gold and red and green; and the man who glided on under the great trees seemed to blend with the colors and, disappearing, to have become a part of the wild woodland. Old Baldy, highest of the White Mountains, stood up round and bare, rimmed bright gold in the last glow of the setting sun. Then, as the fire dropped behind the domed peak, a change, a cold and darkening blight, passed down the black spear-pointed slopes over all that mountain world. Milt Dale, man of the forest, halted at the edge of a timbered ridge, to listen and to watch… " – Zane Grey, "Man of the Forest"
Zane Grey (1872-1939) was an American author best known for his popular adventure novels and stories that were a basis for the Western genre in literature and the arts. With his veracity and emotional intensity, he connected with millions of readers worldwide, during peacetime and war, and inspired many Western writers who followed him. Grey was a major force in shaping the myths of the Old West; his books and stories were adapted into other media, such as film and TV productions. He was the author of more than 90 books, some published posthumously and/or based on serials originally published in magazines.
Click here to get this book for FREE
° ° ° ° ° ° ° ° ° ° ° ° ° °