I was feeling pretty bad that I dug up all the lavender in my yard. I could just hear all the bees screaming, "NOOOO!!! NOT MY FOODIES!!!" Except the blooms were pretty much done and the plants were getting very woody. Thankfully this week the sedum bloomed and they once again can visit my garden for a feast. I have taken so many pictures, but I have been terrible about posting them on my other blog Pollen Patch. Getting ready for the baby basset's first days of school, and the garden just being a big mess, I haven't been much in the mood to post anything. But now that things are settling down I will be back to keeping everyone updated. In the meantime enjoy this lovely picture I just took. HAPPY BEES!!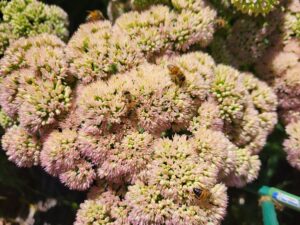 Highlander's Ransom (The Sinclair Brothers Trilogy, Book 1)
by Emma Prince


(830 Reviews)
Genre: Literary Fiction | Historical Fiction | Romance
FREE for a limited time
He was out for revenge…
Laird Robert Sinclair will stop at nothing to exact revenge on Lord Raef Warren, the English scoundrel who brought war to his doorstep and razed his lands and people. Leaving his clan in the Highlands to conduct covert attacks in the Borderlands, Robert lives to be a thorn in Warren's side. So when he finds a beautiful English lass on her way to marry Warren, he whisks her away to the Highlands with a plan to ransom her back to her dastardly fiance.
She would not be controlled…
Lady Alwin Hewett had no idea when she left her father's manor to marry a man she'd never met that she would instead be kidnapped by a Highland rogue out for vengeance. But she refuses to be a pawn in any man's game. So when she learns that Robert has had them secretly wed, she will stop at nothing to regain her freedom. But her heart may have other plans…
This steamy, emotional, page-turning Highland historical romance is part of the Sinclair Brothers Trilogy, but can be enjoyed as a standalone novel. Escape to medieval Scotland today!
Click here to get this book for FREE
° ° ° ° ° ° ° ° ° ° ° ° ° °
Funny Meeting You Here: 6 Shorts (The Funny Thing Is Book 1)
by Holly Schindler


(61 Reviews)
Genre: Humor & Satire | Short Stories
FREE for a limited time
Cross paths. Bump into. Encounter. Come face-to-face. Three cheers for the happy accident!
Oftentimes, the very best part of a story is the section in which the characters meet. The initial spark. The twists of fate. The you'll never believe what happened to me todays. That's what you'll find here: a delightful array of characters — young and old and in-between — meeting for the first time in the most unexpected ways. Six light, humorous, sweet tales of how they came into one another's lives. When you're through, you'll find yourself feeling glad to have spent time with them. Yes, you'll think, thumbing back through the pages, funny meeting them here.
Silly and short, a quick read to chuckle through.
Click here to get this book for FREE
° ° ° ° ° ° ° ° ° ° ° ° ° °
How To Stop Worrying And Start Living
by Carri Powers


(112 Reviews)
Genre: Health, Fitness & Dieting | Self-Help
FREE for a limited time
The Number One Guide to Overcoming Your Worries and Living a Happy Life
Do You Want to Leave Your Worries Behind, But Just Don't Know How?
Everyone worries. That's part of being human. But, some of us suffer from more than just the occasional worry, and instead let our fears and uncertainty control our lives and keep us from enjoying life and pursuing our dreams.
If you have ever let your worries keep you from doing the things in life you want to, this book is for you. Learn how you can change what you think about and leave your worries behind.
In this book you will learn:
• Why we worry
• How to understand what is worth worrying about
• How to change your mindset
• Start by reducing your worries
• The best ways to manage your cares
• How to start living
You will learn how to eliminate the negativity that's been holding you back. Once you learn that worrying is a habit, and like any other habit it can be changed or eliminated, you will be able to free yourself from the negativity.
When you spend all your time worrying about what has happened or what might happen, you leave little room for all the wonderful things that are happening. Once you kick the worry habit you will enjoy time with your friends and family more, and you will see all that you have been missing.
The sooner you follow the principles in this book the sooner you will be living a happier life. Don't let your doubts and negativity keep you from enjoying life another day.
Click here to get this book for FREE
° ° ° ° ° ° ° ° ° ° ° ° ° °
Shadow City : (Tales of the Shadow City Book 1)
by Anna Mocikat


(137 Reviews)
Genre: Suspense | Science Fiction | Horror
FREE for a limited time
Los Angeles is an apocalyptic wasteland.
Without orientation, Colton stumbles through the vast, deserted city. He doesn't remember who he is and where he came from. Scavengers save his life from mutants and bring him to the only remaining inhabited area and safe Zone in former Hollywood.
There he learns that after a devastating catastrophe called The Glitch, reality shifted, allowing nightmarish creatures from another dimension to enter our world. These co-called Dark Ones feed on suffering and violence, wanting nothing less than the complete annihilation of humanity.
Colton discovers that he has extraordinary abilities and joins a league of unusual defenders: ex-cop Eric, female cyborg Bombshell and Vincent, a mighty entity from another world, disguised as a human soldier.
But the Dark Ones are evil beyond imagination and with their ice-cold enforcer, the traitor Eurydice, they are a threat nearly impossible to overcome. Cunning and ruthless, Eurydice sets a ploy in action, which leads to the destruction of the Zone's defenses weakening the tiny community from within. It's up to Colton and his friends to take a desperate stand against the superior enemy and save what is left of humanity from extinction.
Fast-paced, action-driven, and cinematic – an eternal fight of good vs. evil told in a way as never before.
Click here to get this book for FREE
° ° ° ° ° ° ° ° ° ° ° ° ° °
Death on the Boardwalk (Myrtle Beach Mysteries Book 1)
by Caleb Wygal


(447 Reviews)
Genre: Mystery | United States
FREE for a limited time
The Myrtle Beach Boardwalk is normally an idyllic place. Until death arrives on recently widowed bookstore owner Clark Thomas' doorstep. When the body of a local businesswoman and environmentalist gets dumped by the back door of his shop, Clark finds himself in a unique position to investigate the crime. But should he? When it comes to murder, something else drives him he doesn't want to admit. As he launches his own search for the killer, Clark comes across a variety of colorful Boardwalk inhabitants who might have had reason to kill an otherwise beloved person. Can he do it and start putting his wife's death behind him in the process, or will it open up a fresh wound?
Click here to get this book for FREE
° ° ° ° ° ° ° ° ° ° ° ° ° °
Nuts At Christmas: A Christmas Calamity Caper: A funny, hilarious, laugh out loud, Christmas book! (The Shooting Star Series Book 5)
by Simon Northouse


(516 Reviews)
Genre: Short Stories | Literary Fiction | Humor & Entertainment
FREE for a limited time
A Modern Day Christmas Carol!
It's Christmas Eve and Will Harding is handed one job to do by his wife… get a Christmas tree! It's a simple enough task for any normal person. When he takes his three best friends along for the ride, Geordie, Robbo and Flaky… then nothing is simple… and no one is normal.
This Christmas it's different at the Harding house. They've invited their best friends and children to enjoy the festivities at their home in the heart of the Yorkshire Dales — at least, Will's wife has. Will is not entirely confident he can survive a week in close proximity to his dysfunctional friends. His wife has been asking him for days to buy a Christmas tree, but he insists a tree should only be brought into the house on the day before Christmas.
As Christmas Eve arrives, it's time for him to get a tree.
He sets off with good intent, with his best pals to lend a helping hand. However, heavy snowfall, the lure of English country pubs, and a disgruntled Lord of the Manor throw a massive spanner in the works. Add to that, Geordie's propensity for stupidity, Robbo's fondness for wacky?baccy, and Flaky's insufferable lecturing — well… what could possibly go wrong?
Five adorable, innocent little children await their tree. Will it be delivered? And do they even care? The kids have one thing on their mind – Santa! However, the Santa which appears in the garden later that night is not the one they were expecting.
Can Will and his pals save Christmas from becoming another disaster, or will it turn into a bleak mid-winter?
Click here to get this book for FREE
° ° ° ° ° ° ° ° ° ° ° ° ° °