My baby bassets are both in high school now and I expect a certain level of maturity. I am disappointed to say that they did not meet my expectations when I showed them the new Elf I bought to decorate our house this holiday season. APPARENTLY it creeped them out to much. They mention something about nightmares and demon possessions. PULEEZ!!! He is cute! It upset them so much I might have to sell him. I am going to set him out now. If he doesn't do anything demon like, then he stays.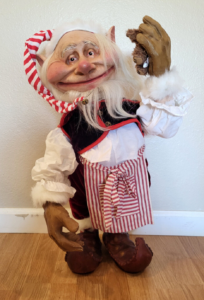 Second Chance in Maple Bay
by Brittney Joy


(285 Reviews)
Genre: Romance | Literature & Fiction
FREE for a limited time
Running from the past is easier than facing it…
Kat swore off horses after a riding accident took her sister. Five years later she still blames herself and deals with the guilt by getting lost in city lights, a corporate job, and a sham of an engagement. But when she returns home for her brother Jesse's wedding, the past comes creeping back. She's not sure she can face the memories, especially because many of them she shared with her brother's best friend, Creed — a man Kat's been in love with since high school and who was with her that fateful night.
Creed lives for one thing — rodeo — and he learned long ago that family is more than blood. Creed's best friend's parents took him under their wing when he was a teenager, treating him like a son. Which is why Kat, his best friend's little sister, has always been off-limits. But when Kat comes home to Maple Bay, a ring on her hand and sadness in her heart, Creed is pulled to her once again. But is she worth the risk of losing the only family he's got?
A feel-good story of second chances and how love, family, and forgiveness can heal all hearts.
Welcome to Maple Bay, a small town with heaps of heart — where family dinner is a must, and someone will always leave the light on for you. A new series perfect for fans of Debbie Macomber, Jenny Hale, and Elana Johnson. Each book in the Maple Bay series can be read as a standalone.
Click here to get this book for FREE
° ° ° ° ° ° ° ° ° ° ° ° ° °
The Red Cotton Fields
by Michael Strickland, Elaine Blackburn


(718 Reviews)
Genre: Historical Fiction | Action & Adventure
FREE for a limited time
The Red Cotton Fields is a story written in the tradition of great historical epics. The story begins on a Georgia plantation in the year 1850, ending on the gold fields of Australia in the year 1884. This is a story surrounding three southern families (the plantation owners, the plantation overseer's family and a Negro slave family) leading up to and including the Civil War. Readers will experience the demise of a southern plantation and follow two of the plantation's previous occupants (Bart Royal, the white overseer's son, and Reiner Washington, an escaped slave as they rise to become two of the richest men in the world. Also, The Red Cotton Fields is a classic love story between the plantation owner's daughter, Holly Ballaster, and the overseer's son, Bart Royal. The Red Cotton Fields is destined to become a classic.
Click here to get this book for FREE
° ° ° ° ° ° ° ° ° ° ° ° ° °
Sweet Revenge: Funny Cozy Mystery (Cocoa Narel Chocolate Shop Mysteries Book 1)
by Morgana Best


(1,520 Reviews)
Genre: Mystery | Humor & Satire
FREE for a limited time
What would you do if you were medically unable to gain weight? Eat chocolate and solve murders, of course…
When a car accident leads to extensive plastic surgery and an inability to gain weight, Cocoa Narel finds herself transformed from an ugly duckling into a beautiful swan.
No longer forced to temper her love for chocolate, Cocoa plans to open a candy store and begins to enjoy the sweet life along with her quirky rescue cat. But when her high school bullies start being murdered one by one, Cocoa becomes the prime suspect.
Can she clear her name, or does the true culprit have a few Twix up their sleeve?
Book 1 in the Cocoa Narel Chocolate Shop Mysteries from USA Today Bestselling author, Morgana Best.
Click here to get this book for FREE
° ° ° ° ° ° ° ° ° ° ° ° ° °
Minus Epsilon: The Earth Saga I (The Earth Saga Universe Book 1)
by Donald B. McFarlane


(172 Reviews)
Genre: Science Fiction
FREE for a limited time
Humanity thought they were the only intelligent life in the universe. They were wrong.
An alien spacecraft has crashed on Earth.
A group of scientists want to establish contact with the aliens.
A hostile government wants to nuke the crash site.
Special Forces Major Joe Hunt is caught in the middle.
With time running out to establish a peaceful relationship with the aliens, Joe must battle his instincts and unexpected forces that threaten the very future of humanity. Regardless of what happens, Earth risks being dragged into a galactic civil war it's not ready for.
Click here to get this book for FREE
° ° ° ° ° ° ° ° ° ° ° ° ° °
Black Beauty: The Original 1877 Edition (A Anna Sewell Classic Novel)
by Anna Sewell


(6,426 Reviews)
Genre: Mystery, Thriller & Suspense | Parenting & Relationships | Classics | Teen & Young Adult
FREE for a limited time
As a young horse, Black Beauty is well-loved and happy. But when his owner is forced to sell him, his life changes drastically. He has many new owners–some of them cruel and some of them kind. All he needs is someone to love him again… Whether pulling an elegant carriage or a ramshackle cab, Black Beauty tries to live as best he can. This is his amazing story, told as only he could tell it.
Click here to get this book for FREE
° ° ° ° ° ° ° ° ° ° ° ° ° °
Extraordinary women throughout history
by Tiana Daniels
Genre: Biographies & Memoirs
FREE for a limited time
Do you know women who changed the world? Are you aware of how women from ancient history until now made a difference and impacted the world? What is the real "girl power"?
Do you know about our brave, famous and excellent women of the world?
We learn to take confident steps ahead by traveling the paths of history. Our longings to contribute are sparked by the history of how others constructed society. Everyone needs role models – people who have walked in our shoes and can inspire us.
The whole tale must be told in history. Knowing about women's accomplishments broadens girls' perceptions of what is achievable. Knowledge of women's abilities and accomplishments fosters respect and self-esteem in all of us, which is critical today and in the future for all children and girls.
? While gender parity remains an issue, the world is thankfully full of examples of courageous women who have faced the most difficult challenges to make their voices heard and receive full appreciation for their accomplishments.
This book will tell you stories of women who have transformed the world, from ancient figures, scientists, and athletes to activists, and how they did it.
This book has women's biography from all six continents like:
• Agnodice of Athens – First Female Physician
• Flavia Maximiana Theodora – "The Early Feminist" One of the First Rulers to Support Women's Rights
• Murasaki Shikibu – The world's oldest and first-known novelist
• Joan of Arc – Patroness of Soldiers and of France
• Grace O'Malley – Pirate Queen of Ireland
• Anna Nzinga – The Black Queen who Fought Against Slavery
• Wang Zhenyi – An Academic Chinese Woman of the 18th Century
• Sacagawea – The Female Guide from Native America
• Anna Filosofova – Russian Philanthropist and Feminist
• Emmeline Pankhurst – English Suffragette who fought for the voting rights of women in Great Britain
• Susanna Salter – The First Female Mayor-Elect
• Frida Kahlo – Mexican Painter
And many more…
Meet some exceptional women who, rather than accepting the rules, rewrote them; after you return from this journey of discovery, you will never look at history the same way again and will be proud of yourself for being a woman.
Click here to get this book for FREE
° ° ° ° ° ° ° ° ° ° ° ° ° °