HAPPY FOURTH OF JULY!!! You know who else is happy? ME!!! I got my fake hanging plants yesterday and I am thrilled! Am I thrilled because they look so good. Absolutely not. They are hideous. I bought the cheapest ones I could find and they lived up to their price. Which is perfect. I wasn't even sure if I wanted fake plants on the deck, so it was a low risk investment. Before the mailman had even left our walkway I had that box opened and was ripping out the fake goodness. I was actually surprised when I opened the box and they didn't have that horrible fake plastic smell. Oh well. I immediately ripped them out of the box, fluffed them up as best I could, and popped them in the hanging baskets. You know when you twist a dolls arms, legs, and head all the wrong way? Yup.. that's what these plants looked like. PERFECTION! I'm sure after a few hot days they will relax into a more natural form. They look like any amount of heat will affect them. I bet they would melt faster than wax lips on a hot picnic table. Were you supposed to eat those things? I think I may have eaten a few as a kid. (Notice the deadish plant on the far right in the picture? Yaaaaa)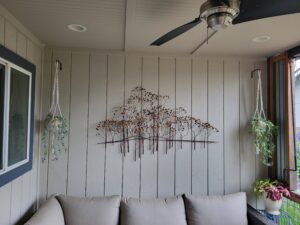 Mash Up (Detective Qigiq Book 1)
by Joe Klingler


(669 Reviews)
Genre: Thrillers | Mystery
FREE for a limited time
Kandy "Action" Dreeson of SFPD homicide gets a quirky partner when Qigiq moves south from Alaska to immerse himself in all things digital, keenly aware that even a 30-something detective is soon obsolete in the rampant world of hi-tech crime.
When a musician arrives at the police station holding a brown box and screaming about her missing roommate, the detectives are sucked into a torrent of cyber-clues from Amazon shipping policy to Zoom meetings. While dodging threats to their lives with each deciphered bit, they grow closer to dangerous forces that trade money for murder and secrecy for seduction.
Click here to get this book for FREE
° ° ° ° ° ° ° ° ° ° ° ° ° °
The Desert Flowers – Rose (The Desert Sage Inn Series Book 1)
by Judith Keim

(734 Reviews)
Genre: Women's Fiction | Contemporary Fiction
FREE for a limited time
The power of love and the strength of women working together are proved once again.
When Rose Macklin is asked to help Alec Thurston, the one man she's ever truly loved, by coming to Palm Desert, California, she doesn't hesitate. He's dying of cancer and needs her help overseeing the sale of his hotel, the Desert Sage Inn, to another hotel group. With her marketing skill and as the owner of a very successful blog, she's his perfect choice to make the sale a smooth transition while ensuring the new owners will maintain the reputation and image of the upscale property after the sale. She arrives to find Alec has summoned two other women to help with the project. Lily Weaver was once Alec's assistant, and Willow Sanchez was like a daughter to him. They join forces to help him, lovingly accepting his nickname for them — the Desert Flowers, similar to the well-known Charlie's Angels of TV fame. When Rose is assigned to work alongside Hank Bowers, an independent consultant to the hotel company's team, she shudders at his reputation as an outgoing guy who always uses sports analogies and is certain they won't get along. But Alec counsels her to give Hank a chance and, later, as they work together as a team, Rose is left to wonder if falling for one another is part of Alec's secret plan even if one of Hank's grown daughters fights the idea.
A series for those who love strong women coming together to help each other and someone they love. Be sure to read all the books in the series — The Desert Flowers-Rose, The Desert Flowers-Lily, The Desert Flowers-Willow, and Mistletoe & Holly.
Another of Judith Keim's series books celebrating love and families, strong women meeting challenges, and clean women's fiction with a touch of romance — beach reads for all ages with a touch of humor, satisfying twists, and happy endings. Be sure to check out her other delightful books and series that readers adore.
Click here to get this book for FREE
° ° ° ° ° ° ° ° ° ° ° ° ° °
Virtually Lace (High-Tech Crime Solvers Book 1)
by Uvi Poznansky


(92 Reviews)
Genre: City Life | Suspense | Thrillers
FREE for a limited time
From USA Today bestselling author, Uvi Poznansky, comes a gripping techno-thriller, part of a multi-author series tied together by an interlocking cast of characters, all centered around the fantastic new promise of high technology and the endless possibilities for crime that technology offers, in a world where getting away with murder can be not only plausible, but easy… if you just know how.
Haunted by finding the body of a beautiful dancer, Michael recreates the murder in virtual reality. Can he solve the mystery, before the man who killed Lace turns on the woman he loves?
Suffering some memory loss due to a violent incident in her past, Ash is unable to identify her attacker. Despite the persistent fear, she puts her life in danger to draw out the suspect, so as to avenge Lace's murder.
Meanwhile, the cops treat Michael as their prime suspect. The only reason they haven't arrested him yet is an urgent rescue mission, as Laguna Beach is engulfed in flames. Will Michael manage to slip away from them and save his sweetheart before it's too late?
Click here to get this book for FREE
° ° ° ° ° ° ° ° ° ° ° ° ° °
Blackbird: A Tommy Donovan Story (A Tommy Donovan Novel)
by W. J. Lundy


(235 Reviews)
Genre: Thrillers | War
FREE for a limited time
Blackbird: A Tommy Donovan Story.
The clandestine Ground Division has a single mission. They exist for the sole purpose to take on tasks the United States government doesn't want to be implicated in.
They work in the shadow of the Central Intelligence Agency, but the men of the Ground Division are not CIA agents. Many of them come from the ranks of America's greatest war fighters — Soldiers, Airmen, Sailors, and Marines, but the men of the Ground Division are not military; They are ghosts. They are off the books of any official government roster.
This is a story of heroism, betrayal and vengeance. I hope you enjoy Blackbird.
Click here to get this book for FREE
° ° ° ° ° ° ° ° ° ° ° ° ° °
Nocturnal Nibbles: An anthology of short, dark horror tales
by Miranda Kate


(93 Reviews)
Genre: Suspense | Horror | Short Stories
FREE for a limited time
Nocturnal Nibbles is a collection of thirty bite-sized pieces of flash fiction for you to devour. Containing short sharp tales of murder, revenge, penance, sacrifice, supernatural scares, monsters and spooks, it offers an array of horror to delight.
So buckle up and dive on in, you won't regret it – but your nightmares might.
Click here to get this book for FREE
° ° ° ° ° ° ° ° ° ° ° ° ° °
A CASE OF THE WIGGLY WORMIES
by Susan B. Lovejoy, Jane E. Hathaway

(2 Reviews)
Genre: Children's eBooks
FREE for a limited time
Ever have one of those days where you can't sit still? This substitute teacher has the answer, and the cure!
Click here to get this book for FREE
° ° ° ° ° ° ° ° ° ° ° ° ° °
No Rescue for the Traitor: A Historical Western Adventure Book
by Derek Levine


(285 Reviews)
Genre: Romance | Literature & Fiction | History
FREE for a limited time
Life is good for Benedict Aritza… He owns a butcher shop with his best friend, he is the town's favorite, ladies always smile his way and he's even put forward as a potential future mayor. His perfect little life is disrupted though when Curley, his business partner, goes missing while on a buffalo-hunting expedition. Benedict is not the kind of man to give up on his friend. He's determined to find him and bring him home safe. There's another problem, however; Curley's sister is dead set on coming along to search for her brother. Benedict admired Hallie's feisty personality, even though she'd always been out of bounds for him. Now, in close quarters as they go on the dangerous hunt together, can he resist the soft spot he's always had for her?
Hallie lost her parents suddenly a few years back. Since then, she's been very protective of her brother, the only family she has left. When Curley goes missing, there is no way she will let this pass without a fight. When she discovers to her horror that the vicious Pablo Javier gang is behind this, she knows there's no time to waste and that she should act immediately. If she has to put up with Benedict for a few days in order to save her brother… so be it. Yet, Hallie has always liked Benedict, more than she'd care to admit. Can she put her pride aside and convince Benedict that she is the competent and skillful comrade that should join him on this perilous quest?
As Benedict and Hallie embark on their journey together, they'll soon find that their quest was never what they thought it would be. What started as a rescue mission ends up becoming an escape plan to save their own lives. With shots fired, and a gang that even has corrupt sheriffs on their side, will Benedict and Hallie manage to help each other out? How will they ever manage to survive when they realize that they're not the ones on the hunt after all, but those being hunted?
Click here to get this book for FREE
° ° ° ° ° ° ° ° ° ° ° ° ° °