Today is Small Business Saturday, when everyone is encouraged to shop local and support our small businesses. I love this idea. I am going to start with the bakery downtown.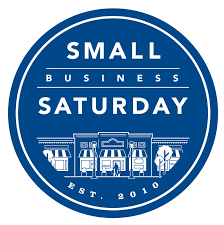 Murder on Parade (Chloe Boston Cozy Mysteries Book 4)
Melanie Jackson


(16 Reviews)
Genre: Mystery
FREE for a limited time
"Murder on Parade" is the fourth book in the Chloe Boston Cozy Mystery Series. Chloe Boston, unofficial detective and meter maid, is on hand when the Christmas parade's grand marshal keels over in his antique car. Something is rotten among the candy canes and rollicking elves, but will Chloe have time to find the killer before Santa comes to town? Throw in a Christmas wedding and Chloe once again has her hands full for the holidays.
Click here to get this book for FREE
° ° ° ° ° ° ° ° ° ° ° ° ° °
Breaking The Rules
Barbara Samuel


(69 Reviews)
Genre: Women's Fiction | Romance | Contemporary Fiction
FREE for a limited time
Mattie O'Neal is on the run. She's chopped off her hair, stolen a car, changed her name, and is hiding in a tiny Arizona town, slinging hash. She thought she was safe – until Zeke Shephard walked through the door. Rugged, hard-edged Zeke doesn't get involved–but there's something about Mattie's courage that catches his sympathy. When the thugs who want to silence Mattie forever show up, Zeke steps in and takes her to his own private hide away, where the two must decide if the link between them is worth fighting for… and if they can stay alive long enough to explore it.
Click here to get this book for FREE
° ° ° ° ° ° ° ° ° ° ° ° ° °
The Gunman (The Thorntons Book 1)
Kerbit J. Little


(11 Reviews)
Genre: Horror | Westerns
FREE for a limited time
The Civil War has ended. Jim and Noble are two rebels who set out from San Francisco searching for gold. While helping a prospector recover his claim, they encounter love, guilt, danger and violence. They come up against a dying assassin who wants to go out in a blaze of glory and a psychotic mayor with a terrible secret. They help a young farmer whose abusive father becomes set on killing Jim. The Gunman is a story of friendship which illustrates how sacrifice, courage and love can ultimately triumph over evil. It will make you laugh, move you to tears and leave you with hope.
Click here to get this book for FREE
° ° ° ° ° ° ° ° ° ° ° ° ° °
VIOLET
Logan Thomas Snyder


(23 Reviews)
Genre: Science Fiction
FREE for a limited time
All Violet ever wanted was to be human. The people who created her wanted anything but. They sought to control her, to use her for their own selfish ends. When she escaped, they scoured the globe to find her. Now, with her family by her side, she intends to fight for her humanity with every breath she has. What started as a curious computer program declaring its sentience has become humanity's last best hope against its own worst enemy. This is her story. This is how Violet learned to live. (This omnibus edition contains all five previously published parts of the VIOLET Series: Becoming Violet, Being Violet, Breaking Violet, Betraying Violet, and Beyond Violet.)
Click here to get this book for FREE
° ° ° ° ° ° ° ° ° ° ° ° ° °
Baking With Sourdough: Recipes and Everything You Need to Know to Start Baking
Doug Sparkle


(10 Reviews)
Genre: Cookbooks, Food & Wine
FREE for a limited time
Get started baking with Sourdough! With this book you will learn why sourdough is a great basis for your baking. You will also get a lot of recipes to get you started! Health benefits of sourdough Read how baking with sourdough gives you a lot of health benefits you wouldn't dream of. Sourdough bread and pastry is great for people with specific food intolerances, but you don't need to have a specific condition to benefit from it. Everyone should know the facts described in this book, as you will find out, they apply to us all. The history of Sourdough Sourdough has an amazing history. In this book you will get great stories on how sourdough was used in the early days. You will also find fascinating stories about sourdoughs that have lived through generations. Sourdough recipes You can bake the most wonderful bread with sourdough. However, sourdough is not only suitable for bread baking. In this book you will get delicious recipes for pancakes, cookies, muffins, biscuits, ciabattas, cakes and more!
Click here to get this book for FREE
° ° ° ° ° ° ° ° ° ° ° ° ° °